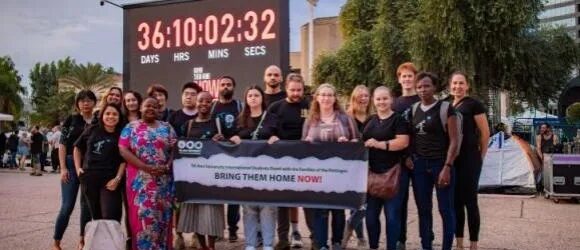 https://www.freunde-tau.org/wp-content/uploads/plaza1.jpg
International students hear from hostages' families.
On November 9 and 12, TAU international students visited the Tel Aviv Museum plaza to meet with relatives of hostages held in Gaza. The visits were organized by the Lowy International Student Life team at the request of the students who have been actively participating in various volunteer initiatives since the outbreak of the war in Israel.
Over 230 people of all ages and many nationalities are still held in Gaza after being captured in the October 7 surprise attack by terrorists. Families and friends of many of them gather every day at the plaza to raise global awareness of the ongoing human tragedy and to demand the immediate release of hostages.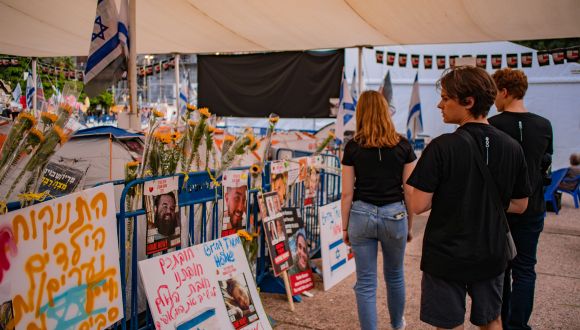 The Tel Aviv Museum plaza has effectively become the headquarters of the hostages' families and is now dubbed the Hostage Square.
Some of the people at the plaza shared their harrowing stories with the students who came to show their solidarity and support for the kidnapped and their loved ones.
Itay Svirsky, originally from kibbutz Beeri, was visiting his parents at the kibbutz over the Sukkot holidays, as is customary in Israel. On Saturday morning, Itay was with his mother Orit in their safe room. Orit and her husband, Itay's father, were murdered.
Itay was initially declared missing, but a couple of days later, the family received a notification from the IDF that he had been taken to Gaza.
"We don't know anything about his physical condition, but in the past two years, Itay has learned many tools that can help him treat himself and others.
I have no doubt that if his physical condition allows him, this is what he is doing now – supporting himself and the people around him and spreading his amazing light wherever he is.
We are praying and waiting for him to come back because we also need some light to get us out of the dark we have been in since October 7," said Itay's friend and colleague.
The neighbor of Adina Moshe, a 72-year-old hostage from Nir Oz, related the losses that their kibbutz had suffered, with about 70 people kidnapped and 30 more killed out of the population of 400.
"That's a quarter of our population gone now. We still have no news and we hear nothing about the kidnapped. Terrorists dragged Adina through the window of the safe room after killing her husband. They put her on a motorcycle between themselves and took her to Gaza.
We don't know what her condition is – she is not so healthy, she has a heart problem, and we don't know if she's getting any medicine or food, or if she is sleeping ok.
We want her back. Today."
It was a moving experience for the students, and some stayed at the plaza until late evening to absorb it all and to join the relatives in their prayers and talks.
Erica Katzin (US/Israel), student in Sustainable Development master's program, commented:
"Learning the full extent of the situation after the initial attack was just devastating. We went to sleep on October 6 and we woke up to rockets. We live in Israel, we signed up for rockets, but no one signs up for this, for the kidnappings. I can't believe the reality of it. October 6 feels like ages ago.
I can't stop thinking about the hostages. I think about them every day.
So many people are not OK. I think about the babies– they need basic things like milk, clean diapers. It's very hard for me."