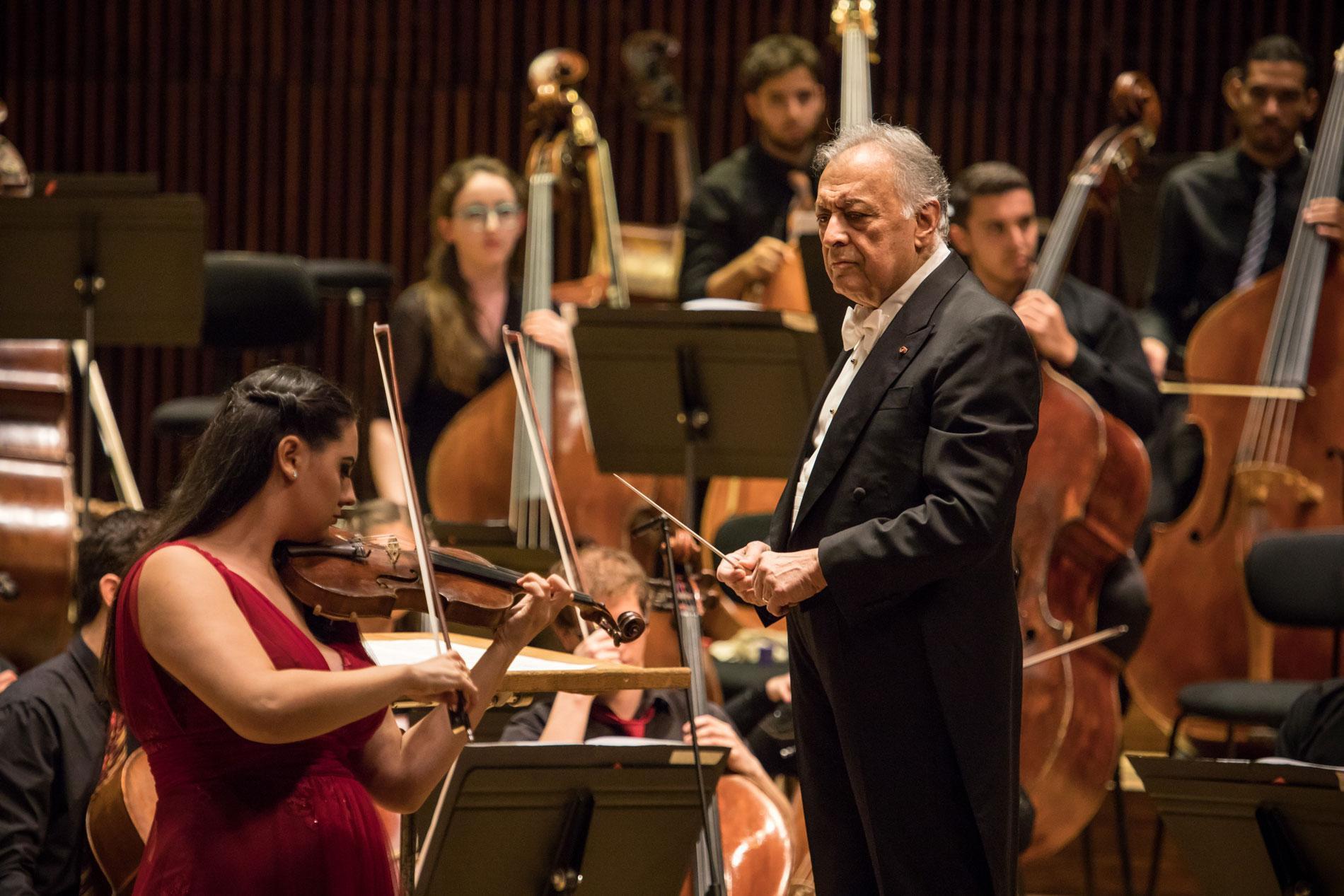 Die Buchmann-Mehta School of Music
Die Buchmann-Mehta School of Music wurde 2004 gegründet – als musikalische Meisterschmiede der Tel Aviv Universität unter dem Dach der Yolanda and David Katz Faculty of the Arts. Die Idee: Eine eigene Musikschule lehrt und fördert die größten Talente und formt damit auch den Nachwuchs des weltberühmten Israel Philharmonic Orchestra.
Zwei Männern ist diese Institution zu verdanken:
Zubin Mehta, dem Stardirigenten und Musikdirektor der israelischen Philharmoniker, und Josef Buchmann, Mäzen aus Frankfurt, der sich gemeinsam mit seiner Frau Bareket Buchmann der Tel Aviv Universität seit vielen Jahren sehr verbunden fühlt.
Die jungen Musiker bilden das Buchmann-Mehta School of Music Symphony Orchestra, das in Israel und der ganzen Welt Erfolge feiert. Unvergessen: 2008 das Konzert im Sitzungssaal der UN-Generalversammlung anlässlich des Internationalen Gedenktages an die Opfer des Holocaust, dirigiert von Mehta.
Mit ihm erfüllte sich der Philanthrop Buchmann, selbst ein Überlebender der Shoah, einen Herzenswunsch. In New York trat das Orchester auch in der Carnegie Hall auf, zudem im Berliner Konzerthaus, der Alten Oper in Frankfurt und in vielen anderen bedeutenden Konzertsälen der Welt. Es spielte außerdem unter anderen weltbekannten Dirigenten wie Christoph von Dohnányi und Kurt Masur.
In Tel Aviv kann Professor Tomer Lev, Direktor der Schule, auf ein besonderes Potential an Begabten aus der ganzen Welt vertrauen. Viele internationale Musikerkarrieren haben hier begonnen, was durch die umfangreiche Stipendienförderung an der Tel Aviv Universität erst möglich gemacht wurde. Auch der neue künstlerische Leiter ist ein Alumnus: Lahav Shani.
Wöchentliche Konzerte der Buchmann Mehta School of Music

Letter from  Prof. Tomer Lev
To all Tel Aviv University friends and supporters,
The whole world is shut down – but the sounds of music go on…
We are happy and proud to start a new venture – a weekly video of concerts performed by TAU`s Buchmann-Mehta School of Music that will be sent to each and everyone of you via email. 
The school's orchestra, choirs, opera workshop and chamber ensembles present the elite of Israel's future generation of musicians. It is a great opportunity to discover the new names that will become the big stars of tomorrow!
Enjoy the sounds and the energies of our wonderful young students, who salute you for your ongoing support and friendship. May we all see you soon on campus, when we are back to our productive routine!
Stay well and healthy,
Prof. Tomer Lev
Head of the Buchmann-Mehta School of Music
The Arthur Rubinstein Piano Fest
18:00 Tel Aviv | 17:00 Berlin/Paris | 16:00 London | 11:00 New York
"During the above dates the 16th Arthur Rubinstein International Piano Master Competition was scheduled to take place in Tel Aviv, Israel.
However, the Corona storm has united the whole world under an uncertain umbrella and paralyzed all artistic activities, with no clear forecast regarding a future date for resumption.
The Arthur Rubinstein International Piano Master Competition and The Buchmann-Mehta School of Music, in conjunction with Haaretz newspaper have decided to join forces and together with a selected group of top young Israeli Pianists, will honor the Rubinstein Competition with one hour of music each evening: 12 pianists – all of whom are either members of the Rubinstein Competition Junior Jury or winners of national Israeli Competitions – will perform live from Clairmont Hall at the Buchmann-Mehta School of Music, Tel Aviv.
In addition we will have live performances by Rubinstein winners Boris Giltburg, Alexander Korsantia and Roman Rabinovich, plus two programs dedicated to the Rubinstein Competition from "Intermezzo with Arik", [Israeli Educational TV Channel], as well as highlights from previous Competition concerts, reflecting the special atmosphere and quality of this event."
https://arims.org.il/arvp-2020/schedule/