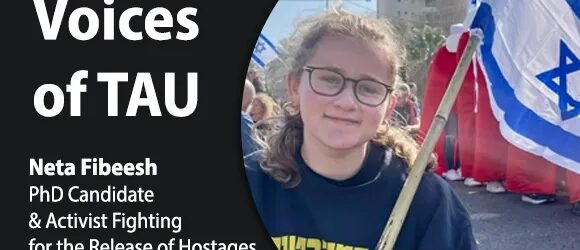 https://www.freunde-tau.org/wp-content/uploads/Neta-Fibeesh-580X330.jpg
TAU PhD student is advocating for the release of Israeli hostages in Gaza.
The Lowy International Bulletin has talked to Neta Fibeesh, a neurobiology PhD candidate at TAU who is researching Parkinson's disease under the supervision of Dr. Ben Maoz and Prof. Uri Ashery.
You are involved in a project in the UK helping to raise awareness of the hostages. Can you tell us about it?
I have been one the organisers of a grassroots initiative, which is advocating for the release of the hostages. Our website is kidnappedfromisrael.com. The initiative began in America where two artists, Dede Bandaid and Nitzan Mintz, designed posters which could be printed and stuck up to raise awareness of the hostage crisis.
Two Israelis in London, Yair Oshman and Eyal Biram, bought this initiative to the UK and since then the project has been exponentially growing. We currently have almost 2,000 volunteers in our WhatsApp group, who not only stick up the  posters in the streets of London but also attend our solidarity rallies.
To date we have organised three rallies, including: a human chain where volunteers held posters of the hostages in Trafalgar Square; a similar event outside the Qatar embassy; and, most recently, a huge event in Parliament Square where key speakers attended to call for the release of the hostages.
The main goal of these initiatives are: most importantly to demand the release of the hostages, to increase international pressure and assistance with such, and also to gain global recognition that Hamas is a terrorist organisation that has kidnapped innocent children, women and elderly civilians.
Why did you decide to get involved?
I arrived back in London [from Israel] on 10.10.23, three days after the war began, because my parents and brother live in London. When I landed, I was completely devastated. I saw most of my friends and cousins either still in the IDF or recruited to military reserves, and I felt helpless. On my first day in London, we went to visit a close friend of my parents, Michal Cohen-Sagi. Michal is married to Noam Sagi. They are Israelis who live in London and Noam is originally from Kibbutz Nir Oz. His 75-year-old mother, Ada Sagi, a Hebrew and Arabic teacher, has been taken hostage.
The news about the hostages is heartbreaking whether you know someone who has been kidnapped or not.
Whilst I sat with Michal, I was so unbelievably upset that my parents' dear friends were going through this. I had heard that Eyal and Yair were distributing posters in London that afternoon and, initially, I was unsure whether to go because I was a bit concerned about the antisemitism. But after seeing Michal, I decided I must do something to help, even if it is just to stick up posters and raise awareness.
When you were putting up signs, you were confronted by people trying to tear them down. What went through your mind at that moment?
I think the first thing I felt was shocked and scared. I was stunned by the aggression of the people tearing down the posters. They did not stop and ask a question or even attempt to engage in a meaningful debate about the situation; they were  simply hostile and full of hatred.
The complete lack of empathy and anger was just beyond my understanding …
All we wanted was to raise awareness and advocate for the hostages in a peaceful and non-threatening manner, but – having been in Israel and [having] had friends and family personally affected by the situation – my emotional capacity was  too low to argue with them any further, so we waited until they left and picked up the posters which had been torn down and stuck them up again.
I did not expect the video I took to instantly become viral, but for the next few days news reporters across the world were interviewing me. I remember consulting with my parents whether to do the interviews or not because I was worried about the antisemitism, but I decided that this was precisely their aim: to stop us from voicing our opinions and sharing the terrible tragedy the Israeli nation has experienced. [I realized] that it is important to try to change public opinion and use these platforms to talk about the hostages.
Do you have a message you would like to share with the world about the hostages?
I would like to remind the world that this escalation was initiated when Hamas committed crimes against humanity on 07.10.23. To kidnap innocent civilians of all ages – women and men, Israelis and non-Israelis – is a barbaric atrocity.
Try to imagine the anguish that the affected families are experiencing.
Even though all of us in Israel are consumed by this, there are times of the day where we may stop thinking about it for a few minutes. These families cannot stop thinking about it. It is their 24/7. They do not know if their children are being looked after. They do not know if their elderly family members are receiving their medications. They do not know if they will ever see their loved ones again or find out what happened to them.
There is no greater disaster and tragedy than this constant unknown. We cannot even begin to comprehend how these families feel, let alone what the hostages are going through.
People in the world who care about human rights, who claim to be progressive liberals, who are loving family members or friends, must not forget this and we must continue to demand that the hostages are released.