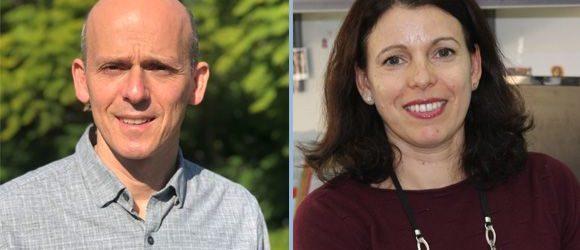 https://www.freunde-tau.org/wp-content/uploads/both580_1.jpg
Prof. Neta Erez and Prof. Tal Pupko, nominated by students, are building the future generation of scientists.
Two scientists from Tel Aviv University – Professor Neta Erez, head of the Department of Pathology at Tel Aviv University's Sackler School of Medicine, and Professor Tal Pupko, head of the Shmunis School of Biomedicine and Cancer Research at the Life Sciences Faculty, have won the 2020 Nature Research Awards for Mentoring in Science, given by the Springer Nature Group, which is the home of the leading journal Nature.
The prestigious award (which is given in a different country each year), was given in Israel this year, with Tel Aviv University sweeping all the honors for mid-career mentoring. The award is given to scientists who excel in mentoring research students in their laboratories, thus contributing to the development of the future of science — in Israel in particular and in the world in general. Both winners will share the $10,000 prize. They said that the prize was especially moving for them because the ones who had nominated them for it were the very ones whom they mentored — the students and graduates of their laboratories.
Professor Erez, who established a laboratory ten years ago for researching metastasis of breast cancer and melanoma, and who has mentored 16 doctoral candidates and five master's degree students so far, said, "For me, mentoring is a central part of my identity as a scientist. When a doctoral candidate comes to me, I tell them: 'You are starting off as my student, and I want you to end up as my peer.' For that reason, my role as a mentor is not only to accompany the research. My role is to teach my students to think and do research like scientists, and to find their own way in science and in life in general.  I am very proud of their accomplishments. Quite a few graduates of the laboratory have been awarded prizes and grants. As of now, four of the students have completed their medical studies and are planning to combine medicine and research. One is a research fellow and a lab manager in an academic setting, another is doing post-doctoral work in the United States, and four others are working as scientists in the biotech industry. In addition, I serve as a mentor for two young researchers who recently established their own laboratories." 
Professor Pupko, who established a laboratory 17 years ago that deals with molecular evolution and bioinformatics, has mentored 18 doctoral candidates so far. "The members of the academic staff are evaluated based on a variety of parameters: research grants, publications and teaching. Another index, which I feel does not receive enough emphasis, is the success of a staff member's laboratory graduates — the young scientists whom he taught, mentored, and 'raised.'" I invest a great deal of thought and effort in my students in order to support, encourage, advise, and nurture them. All 12 doctoral candidates who completed their degree in my laboratory have gone on to do post-doctoral work.  Four of them are staff members in academia (including three at Tel Aviv University) — a particularly high number for an academic research laboratory. Other graduates of my laboratory hold high-ranking positions in the hi-tech and bio-tech industries. As I see it, a student who excels is better than another three scientific papers. My aim is to raise up generations of researchers in Israel. I see that as my mission."
The prize committee, which included Professor Karen Avraham of the Faculty of Medicine at Tel Aviv University, announced that it had chosen the two recipients because "it was impressed with their contagious enthusiasm of former students," who had nominated them for the award. The committee also praised Professor Pupko for his inclusive approach and encouragement of a healthy work-life balance alongside professional excellence, and Professor Erez for her work to advance women in science and for projects that bring her influence as a mentor to wider circles, including ones outside her laboratory.