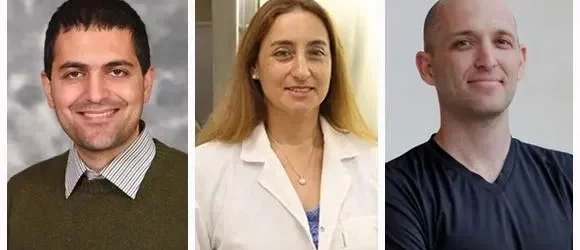 https://www.freunde-tau.org/wp-content/uploads/erc-2023-3_1.webp
Prof. Ronit Satchi-Fainaro, Prof. Raja Giryes and Prof. Eilon Shani receive the prestigious grants from the European Research Council.
The European Research Council (ERC) recently announced the recipients of its 2022 call for Proof of Concept (PoC) grants, and three Tel Aviv University researchers were included on the list. The grants – each worth 150.000 euro – help researchers to bridge the gap between the discoveries stemming from their frontier research and the practical application of the findings, including early phases of their commercialization. The funding is part of the EU's research and innovation program, Horizon Europe.
"Tel Aviv University sees great importance in the development of applied technologies and their commercialization, and we are very proud of our researchers and happy about their achievements and success. It is exciting to see that Israel in general, and Tel Aviv University in particular, continue to be at the forefront of global science in a variety of fields." says Prof. Dan Peer, Tel Aviv University's Vice President for Research and Development and Head of the Laboratory for Nanomedicine.
The three researchers who were awarded ERC Proof of Concept grants for their groundbreaking research were:
Prof. Satchi-Fainaro is engaged in multidisciplinary research that focuses on the interactions between cancer cells and their microenvironment, and discovering new targeting molecules that may interfere with the interaction between the host and the tumor. In her current research, Satchi-Fainaro is developing a targeted modular nanoplatform that can be used as a therapeutic tool and would also help regulate the cells of the immune system during cancer treatment. She won the ERC PoC (ImmuNovation) grant based on her ERC Advanced grant (3DBrainStorm), which deals with the development of cancer nano-vaccines, tested on the unique 3D models she created in her laboratory.
Prof. Giryes' research focuses on artificial intelligence and its application in the fields of signal processing, images, and optics. In his current research, Prof. Giryes is developing innovative cameras for polarization and 3D calculation. Based on this technology, a polarized endoscopy method will be developed that incorporates 3D imaging.  
Prof. Shani researches the fields of molecular genetics in plants as well as the transport mechanisms of signal molecules in plants. In order to deal with the challenge of the genetic overlap of gene families in plants, Prof. Shani's current research applies genetic editing approaches (CRISPR) with genomic resolution. These biotechnological tools result in revealing the phenotypic variation in the plant, and identifying mechanisms that the plant uses to deal with changes such as lack of water.
Featured image: From left to right: Prof. Raja Giryes, Prof. Ronit Satchi-Fainaro and Prof. Eilon Shani