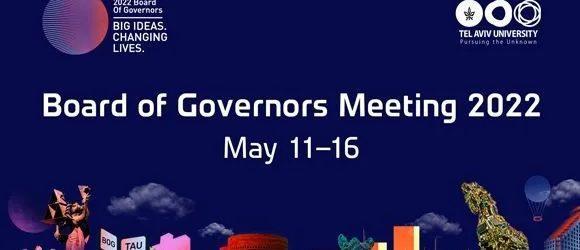 https://www.freunde-tau.org/wp-content/uploads/main_image_580.jpg
Festive event brings hundreds of Governors and friends to campus from around the world, for first time since 2019.
The annual TAU Board of Governors Meeting will be taking place between May 11-16. For the first time since the outbreak of the pandemic, the festive event will fully take place live on campus.
Here's a selection of highlights from the program, with a focus on the impact of TAU's big ideas on the success of the State of Israel and beyond.
Honorary Degrees
In a festive ceremony on the evening of May 12, TAU will award Honorary Doctorates to: Prof. Cornelia (Cori) Bargmann (Neurobiologist and Geneticist, Rockefeller University, USA), Prof. Sir Michael V. Berry (Theoretical Physicist, University of Bristol, UK), Mr. Eric J Gertler (Executive Chairman, U.S. News & World Report, USA), Mr. James S. Gertler (Philantropist, USA), Prof. Bernd Huber (President of the Ludwig Maximilian University of Munich, Germany), Ms. Jodi Kantor (Journalist and Author, USA), Prof. Katalin Kariko (Biochemist and Senior VP of BioNTech, Hungary/USA), Mr. Solomon Lew (Philanthropist and Chairman, Australia), Prof. Jehuda Reinharz (Historian and Company President, Israel/USA), Prof. Jurgen Renn (Historian and Institute Director, Germany).
An Honorary Fellowship will be awarded to: Iranian American Jewish Federation of New York, USA.
The ceremony will be broadcast live on TAU's Facebook page and its LinkedIn page on May 12 at 8 p.m. (Israel time). The public is invited to attend virtually.
From the 2021 Honorary Doctorates Ceremony (Photo: Chen Galil)
Kadar Family Award for Outstanding Research
The Kadar Family Award for Outstanding Research at Tel Aviv University celebrates pioneering scientists and scholars who have reached the highest levels of excellence in both research and teaching.
This year's recipients are: Prof. Michal Feldman from the Blavatnik School of Computer Science, Raymond & Beverly Sackler Faculty of Exact Sciences, Prof. Leo Corry from the Cohn Institute for the History and Philosophy of Science and Ideas, The Lester and Sally Entin Faculty of Humanities, Prof. Jonathan Berant from the Blavatnik School of Computer Science, Raymond & Beverly Sackler Faculty of Exact Sciences, and Dr. Roy Tzohar from The Department of South and East Asian Studies, Lester and Sally Entin Faculty of Humanities. 
Inauguration of The Sylvan Adams Sports Center
TAU will inaugurate the Sylvan Adams Sports Center on Wednesday, May 11, at 4:15 p.m. The event will be broadcast live by The Jerusalem Post.
The Dan David Prize: Past Forward
The winners of the 2022 Dan David Prize – nine groundbreaking historians and researchers from around the world – will arrive in Israel this week to receive the $3 million Prize at a festive ceremony on Wednesday, May 11, at Tel Aviv University.
At a time when documented facts and evidence-based conclusions are increasingly contested, understanding our history is more important than ever. That's why, to mark the Dan David Prize's 20th anniversary last year, the Prize was redesigned to celebrate scholars and practitioners whose work illuminates the human past, bringing a historical lens to current debates and our thinking about the future. 
The winners of the 2022 Dan David Prize: 
Mirjam Brusius – a cultural historian who studies visual and material culture in global and colonial contexts
Bart Elmore – an environmental historian who uses everyday products – from sodas to seeds – to demonstrate how large multinational firms have reshaped global ecosystems
Tyrone Freeman – a historian of philanthropy who researches African-American charitable giving and activism
Verena Krebs – a cultural historian who draws on material culture and art, alongside written sources, to uncover the complex relationship between Ethiopia and Western Christendom
Efthymia Nikita – an osteoarchaeologist who uses a wide range of innovative methods to unlock what human skeletal remains reveal about the health, diets and mobility of ancient peoples
Nana Oforiatta Ayim – a curator, writer, filmmaker and public historian whose work recenters African narratives, institutions and cultural expressions in telling the past
Kristina Richardson – a social and cultural historian of the medieval Islamic world
Natalia Romik – a public historian, architect and curator whose work focuses on Jewish memory and commemoration of the Holocaust in Eastern Europe, especially Poland and Ukraine
Kimberly Welch – uses endangered local legal archives from the antebellum American South to explore lawsuits brought by free and enslaved Black people
Each winner will receive $300,000 in recognition of their achievements and in support of their future work.
On Tuesday, May 10, the nine Prize winners will participate in the Dan David Prize History Day, which will be held at The Steinhardt Museum of Natural History at Tel Aviv University. 
Dan David Prize – Looking Back, Looking Forward
Inauguration of Koret Center for Jewish Civilization
On Sunday, May 15 at 2 p.m., TAU and ANU – Museum of the Jewish People (ANU) will inaugurate the Koret Center for Jewish Civilization, in the presence of Dr. Anita Friedman, President of the Koret Foundation and Chair of TAU's Global Campaign. With the vast knowledge and resources of both institutions, the unique initiative will create an educational and cross-disciplinary approach to meet the challenges of contemporary Jewish thought, social engagement and identity. 
In addition, Governors will attend a number of tours, symposia and parties during the BOG meeting. At one event, Merav Michaeli, Israel's Minister of Transport and Road Safety, will be among experts who will speak about "Israel's Transportation Revolution," as part of a symposium entitled "The Urban Revolution: The Future Design of Cities and Campuses."
For regular BOG updates and photos, follow us on Twitter, LinkedIn, and Facebook, hashtag #TAUbog22.