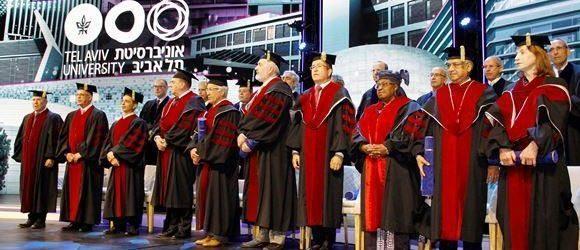 https://www.freunde-tau.org/wp-content/uploads/Honorary-Degrees-BOG2019.580.Noam-Wind.jpg
Festive event to be hosted on campus and broadcast around the world.
The annual TAU Board of Governors Meeting will be taking place between October 13-17. For the first time since the outbreak of the pandemic, the festive event will be taking place both in-person and online. The following is a selection of highlights from the program, with a focus on the impact of TAU's big ideas on the success of the State of Israel and beyond.
Honorary Degrees
Honorary Doctorates for Recipients in Israel will be awarded to: Mr. Haim Be'er (novelist); Adv. Hanina Brandes (Founding Partner, Naschitz Brandes Amir); Prof. Shafrira (Shafi) Goldwasser (Electrical Engineer and Computer Scientist, MIT; Mathematician, Weizmann Institute of Science); and Ms. Hanna Zohar (Founder, Kav La'Oved).
Honorary Fellowships in Israel will be awarded to: Mr. Joseph Bar Natan (Businessman and Philanthropist) and Gesher Theater, Israel.
The ceremony will be broadast live on TAU's Facebook page on October 17 at 8 p.m. The public is invited to attend virtually.
Climate Change and Space Research
MK Tamar Zandberg, Israel's Minister of Environmental Protection and a TAU alumna, will address this year's Academic Symposium, titled "Between Climate Change, Space Research and Life under Extreme Conditions." 
The guest speaker will be Dr. Jessica Meir, NASA astronaut and one of Time magazine's 100 Most Influential People of 2020. Her talk will focus on her recent mission to space, space research and life under extreme environments as well as on NASA's work related to climate change. The Symposium will be chaired by Prof. Mark Shtaif, Rector of the University and moderated by Prof. Colin Price, Head, Environmental Studies Department, Porter School of the Environment and Earth Sciences.
Dr. Jessica Meir, NASA astronaut 
First Woman to Chair TAU's Board
After serving for three years as Co-Chair of the TAU Global Campaign, triple alumna and long-time benefactor of TAU Dafna Meitar-Nechmad will replace Prof. Jacob A. Frenkel, who will be completing two four-year terms as Chair of the Board of Governors. She will be the first woman to Chair the Board of Governors.
Meitar-Nechmad thanked the Search Committee for recommending her appointment: "As a woman, a social investor and an alumna of TAU, it will be a great honor and privilege for me to head its Board of Governors. The past decade has seen substantial development at TAU, in research, education and contribution to the community, and I am certain that together we can keep up this momentum, expand the sources of funding, and open TAU's gates to new target populations from both Israel and abroad."
Also during the meeting, TAU will welcome 35 new governors from around the world.
Dafna Meitar-Nechmad is the incoming Chair of the Board of Governors (Photo: Moshe Bedarshi)
Kadar Family Award for Outstanding Research
The Kadar Family Award for Outstanding Research at Tel Aviv University celebrates pioneering scientists and scholars who have reached the highest levels of excellence in both research and teaching. For the past six years, the Award has been granted annually to four TAU researchers, two senior and two junior faculty members, from across the entire spectrum of faculties and disciplines on the TAU campus. This year's recipients are: Prof. Emilia Fridman from the School of Electrical Engineering, Fleischman Faculty of Engineering; Prof. Dalit Rom-Shiloni from the Department of Biblical Studies, Entin Faculty of Humanities; Prof. Yossi Yovel from the School of Zoology; Wise Faculty of Life Sciences and Prof. Domenico Agostini from the Department of General History, Entin Faculty of Humanities.
Launch of New Dan David Prize
At a time when documented facts and evidence-based conclusions are increasingly contested, understanding our history is more important than ever. That's why, to mark the Dan David Prize's 20th anniversary, the Prize has been redesigned to celebrate scholars and practitioners whose work illuminates the human past, bringing a historical lens to current debates and our thinking about the future (nominations are still open for the largest history prize in the world, The Dan David Prize 2022). The relaunch of the Dan David Prize will be celebrated with a keynote lecture by Prof. David Nirenberg from the University of Chicago on "How the Long History of Race and Religion Helps Us Think about the Present and Future."
Dan David Prize – Looking Back, Looking Forward
For regular BOG updates and photos, follow us on Facebook, Twitter and LinkedIn, hashtag #TAUbog21.
Featured image: From the Honorary Degrees Conferment Ceremony, BOG 2019 (Photo: Noam Wind)