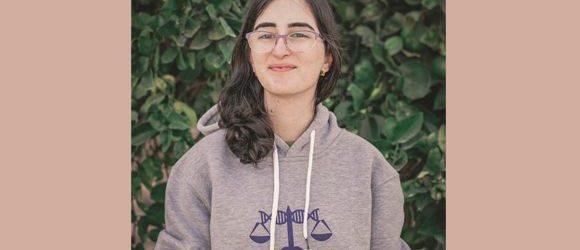 https://www.freunde-tau.org/wp-content/uploads/karin580_0.jpg
Students from Tel Aviv University win a gold medal at iGEM – the World Championship in Synthetic Biology
An unprecedented achievement for the TAU team at iGEM (International Genetically Engineered Machine Competition) – the world championship in synthetic biology. The 50%-female team won first place in the Best Software Development category, and second place in the Foundational Advance category (a prize given for proposed solutions for fundamental problems in synthetic biology). Moreover, in the competition's overall ranking, the TAU team ranked higher than teams from some of the world's top universities, including Stanford, MIT, Harvard and Cornell.
Students from 256 leading universities around the world participated in the competition. Each team formed an original idea and implemented it like a startup venture. Normally, the competition takes place anually in Boston, but this year, due to the pandemic, it was conducted online. The TAU team, led by Prof. Tamir Tuller, Head of the Laboratory of Computational, Systems and Synthetic Biology, The Fleischman Faculty of Engineering, included 12 outstanding students from the Faculties of Engineering, Medicine, Life Sciences and Exact Sciences: Karin Sionov (Captain), Niv Amitay, Hadar Ben Shoshan, Noa Kraicer, Bar Glickstein, Itamar Menuhin, Matan Arbel, Doron Naky, Omer Edgar, Itai Katzir, David Kenigsberger and Einav Saadia.
Genetic engineering is based on the insertion of genes from one organism into another organism. The challenge in this process is the instability of these genes, which are often quickly 'erased' from the genome. In the iGEM competition, the TAU team developed an innovative technology that improves genome stability and ensures long-term preservation of the inserted synthetic genes. Since most of the world's biotech and pharma companies use this type of genetic engineering, the new technology can contribute to a range of areas, such as drug development, the food and agriculture industry and green energy.
The technology, based on tools from various disciplines, including engineering, computer science and molecular biology, comprises software for designing genetically stable DNA sequences, alongside novel techniques for measuring genome stability. Highly impressed with the new technology, the judges awarded it a gold medal, as well as prizes and high ranking in several categories.
Team Captain Karin Sionov, who holds a BSc in Biomedical Engineering from TAU's Faculty of Engineering: "It was a great honor for me to head a team of outstanding students who were extremely proud to represent Tel Aviv University and the State of Israel. Winning was our reward for a whole year of hard, challenging work. We came to the competition with great motivation and gave everything we had. I am glad that we defeated some of the world's leading universities."
Prof. Tamir Tuller: "This is a very impressive achievement, which proves that TAU leads and excels in synthetic biology – not only in Israel but internationally as well. One proof of the immensity of the achievement comes from a Swiss company that has expressed an interest in our technology, already forwarding a contribution to advance the idea, and intending to support us on our way to commercialization."