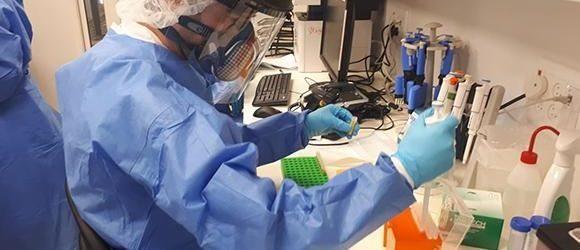 https://www.freunde-tau.org/wp-content/uploads/lab580_0.jpg
TAU's specialized Corona Lab is expected to conduct up to 1,600 tests a day
Israel's Health Ministry has approved opening a Tel Aviv University COVID-19 testing lab, which will allow Israel to perform 1,600 coronavirus tests a day. The TAU lab, headed Prof. Ariel Munitz of TAU's Sackler Faculty of Medicine, was born virtually overnight of the interdisciplinary efforts of some 30 TAU researchers, graduate students and management staff of the Sackler School of Medicine and the George S. Wise Faculty of Life Sciences.
"Immediately upon the outbreak of the Corona crisis, TAU focused all its resources on the national task of eradicating the epidemic," says Tel Aviv University President Prof. Ariel Porat. "But now we have decided to go beyond what is customary in the academic world and open a fully operational laboratory for coronavirus testing. We are supplying top experts with the most innovative equipment and technology for the benefit of the Health Ministry and the public, all of whom have one clear goal – to defeat this virus."
A medical marvel in 80 hours
The decision to establish a lab was made shortly after the coronavirus crisis broke out in Israel. From start to finish, the lab was built in a record 80 hours, with construction kicking off on Tuesday, March 24th, at 7 AM, and finishing Friday, March 27th. A Health Ministry official yesterday reviewed the lab to ensure that it meets health and safety protocols, and the lab is now fully operational.
"We realized immediately how critical testing was and how we at the University could contribute to Israel's diagnostic landscape," explains Prof. Munitz. "We contacted University management, who got involved immediately and quickly approved a budget for the project. It was not an easy decision. It was unclear whether the Health Ministry would approve, and we did not know exactly what the protocol was or what was required — but we knew we needed to act. The safety of the team operating the lab is and remains our highest priority, and we are taking every necessary precaution in strict alignment with Health Ministry regulations. I have no doubt that our collaboration with the Health Ministry will greatly assist in advancing the national testing system."