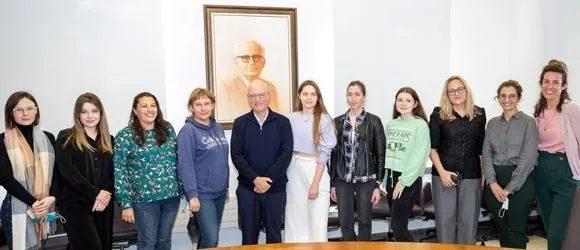 https://www.freunde-tau.org/wp-content/uploads/students-and-president-580.jpg
Some "need time to unfreeze", as they begin their studies on campus.
Tel Aviv University officially welcomed seven Ukrainian graduate students, who arrived within the framework of the Emergency Fellowship Fund recently announced by the University in light of Russia's invasion of Ukraine and the ensuing refugee crisis.
The all-women group of students hail from different cities in Ukraine, stretching from Lviv and Kyiv to Mariupol and Mikolaiv, and will continue their studies in law, medicine, psychology, music and linguistics. 
"You are very much wanted here at TAU," President Ariel Porat told the students at the introductory meeting, expressing hope that despite the unfortunate circumstances students will find "a home away from home" at the University that will enrich their academic and personal lives. 
Constant Worry
Most of the students left their families behind in Ukraine, and worry about their wellbeing around the clock. "I managed to speak to my family yesterday, but today the connection was severed and I was unable to reach them," says Alisa, a graduate student in law, who will be studying Crisis Management at TAU. She comes from a small town near Mariupol, in Eastern Ukraine, which has suffered some of the heaviest blows in the fighting. Alisa heard about the Fellowship through her academic advisor, as did most of the other students. 
Marina, another law student, was enrolled at the Ukrainian State Pedagogical University in Kropyvnytskyi, a central town which she says is pretty safe for now. The University premises, however, have been converted into living quarters for people escaping from more dangerous areas. Lectures are only taking place online and are highly irregular. "I was supposed to graduate in June," she tells us, "but for now, I'm just happy to be able to continue my studies here at TAU."
Kateryna from Kyiv studies psychology, and left immediate family members in Ukraine. "This is my first time in Israel and I know nothing about the local culture, but I'm very curious to learn," she says, adding that the adjustment process helps her endure the constant concern about her family's wellbeing. 
"We need some time to 'unfreeze', before we can start to take in and appreciate our surroundings," adds Alisa. 
Here to Help
The students are being offered counseling and psychological services by TAU International, which has been taking full care of them since their arrival in Israel. "In light of the humanitarian situation in Ukraine, we are making a great effort to ensure that the Ukrainian students enjoy their campus experience and have a smooth transition to living in Tel Aviv, and that all their immediate needs are met," says Michal Linder Zarankin, the School's International Projects Coordinator.
Their tuition and living expenses are covered by TAU's $1 million Emergency Fellowship Fund, which was swiftly raised by the University's donors around the world over the last few weeks. 
Five more Ukrainian students are expected to arrive next week, as well as some faculty members. 
Out of the 30,000 students studying at TAU, over 300 hold dual Israeli-Ukrainian citizenship. In addition to these, there are many Israeli TAU students of Ukrainian and Russian descent. 
Featured image: Ukrainian graduate students are welcomed by TAU's President Ariel Porat, Prof. Milette Shamir VP International and TAU International staffers