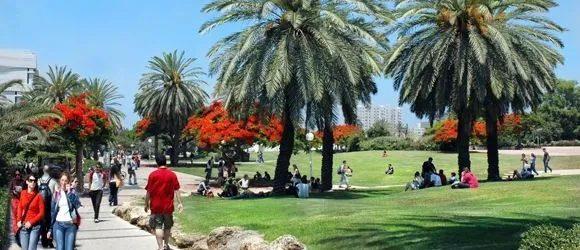 https://www.freunde-tau.org/wp-content/uploads/safe-campus580-330_10_0.jpg
University becomes first in Israel to unroll plans for 'green' campus transformation.
In a first among Israeli universities, Tel Aviv University announced its plans to switch entirely to renewable electricity within two years. The pledge comes following the completion of a comprehensive assessment of campus' greenhouse gas emissions (direct and indirect), as part of initial steps in a 10-year plan towards carbon neutrality.
Comprehensive Evaluation
External company EcoTraders conducted the evaluation according to the GHG Protocol – a global standardized framework used to measure greenhouse gas emissions. The comprehensive report includes details on all campus facilities that are owned and operated by the University, including the Broshim and Einstein student dormitories. The carbon footprint of the University's suppliers was also assessed – from electricity consumption on campus, to transportation and construction inputs, to the food served at conferences and cafeterias.
The report was conducted using the University's 2019 emissions data as a baseline year reference, before the outbreak of the COVID-19 pandemic, which disrupted many activities, resulting in a temporary reduction in emissions.
Moving towards Carbon Neutrality
"Tel Aviv University has decided to do its modest part to reduce greenhouse gas emissions, which is crucial for addressing the climate crisis," says Prof. Ariel Porat, President of Tel Aviv University who also chairs TAU's Green Campus Committee. "We intend to formulate a methodical and detailed 10-year plan, with the goal of attaining carbon neutrality further down the road. Our hope is to inspire other institutions in Israel and around the world to take similar actions, which, in addition, help educate the next generations about this important subject."
Gady Frank, TAU's Director-General adds, "We are working to make sure that in two years all the electricity produced on campus will be green. Currently, we have more than 5000 meters of photovoltaic cells, and our goal is to triple their amount on campus rooftops. In addition, we will install storage facilities, which will drastically increase the yield of these solar cells. The rest of the energy would be bought from private suppliers specializing in producing energy solely from green sources."
"We intend to formulate a methodical and detailed 10-year plan, with the goal of attaining carbon neutrality further down the road. Our hope is to inspire other institutions in Israel and around the world to take similar actions." 
Green roof of TAU's Porter building
Recruiting Experts
About a year ago, the University's Green Campus Committee, led by President Prof. Ariel Porat and Director-General Gady Frank, appointed a team of academic and administrative experts to create a strategic plan with the goal of significantly reducing greenhouse gas emissions on campus by encouraging more efficient use of resources and investing in renewable energy.
The team of experts hired EcoTraders to perform a baseline assessment of the overall carbon footprint of all TAU activities, on and off campus.
The team includes Prof. Marcelo Sternberg, Head of the Expert Team from George S. Wise Faculty of Life Sciences; Dr. Vered Blass and Dr. Orli Ronen – both of the Porter School of the Environment and Earth Sciences; Prof. Avi Kribus from the Iby and Aladar Fleischman Faculty of Engineering; Ofer Lugassi, Deputy Director-General for Engineering and Maintenance; and Alon Sapan, Director of the Steinhardt Museum of Natural History.
Developing a Practical Plan
"We set out on this mission about a year and a half ago and decided that in order to lead real change on campus, we must conduct a thorough and comprehensive mapping of all of the University's greenhouse gas emissions," explains the team of experts. "This is a complex process that required the enlistment of many parties on campus, who agreed for the first time to share with us, and the authors of the report, information that had not been made public until now."
Now, with the publication of the report's findings, the expert team is developing a practical plan to reduce TAU campus' greenhouse gas emissions, to be presented for discussion within the Green Campus Committee and subsequently submitted for approval by the University administration.
It is the first time that an Israeli university has taken this kind of action, and the experts are confident that other universities will follow in TAU's footsteps.
"It is not trivial that the University is investing resources in collecting and analyzing the data – and it is even less trivial that the University is publishing this data – but we are committed to our strategic vision of striving to attain carbon neutrality in the future."
Highlights from Report
According to the report, in 2019, Tel Aviv University was responsible for greenhouse gas emissions amounting to approximately 70,000 tons of carbon dioxide, 93% of which were indirect, with only 7% constituting direct energy-related emissions from the campus, mainly from its air-conditioning systems.
According to the report's authors, the total indirect emissions are broken down as follows: Electricity consumption on campus (42%); waste production and management (11%); transportation (12%); food and beverage services (7%); construction and building maintenance inputs (4%); fuel and energy for the University's facilities (4%); procurement (4%); computer and laboratory equipment (3%); other (6%).
Prof. Ariel Porat, President of Tel Aviv University
Strategic Cuts
Numbers published in 2021 show that Tel Aviv University is responsible for emitting 1.56 tons of CO2-equivalent greenhouse gases per capita per year, compared to Yale University's 8.2 tons, the University of Melbourne's 2.7 tons, and the Leuphana University of Lüneburg, Germany's 0.73 tons.
While the report shows that electricity consumption is the most polluting factor by far on TAU campus, reducing emissions generated from electricity consumption has so far not been an option, as the production method was determined by Israel's Electric Corporation. However, this has changed. The experts say, "With the opening of the energy market, we plan to consider a transition from electricity suppliers that burn natural gas to suppliers that rely on renewable energy, and to expand the independent production of solar power within the campus." When it comes to food procurement, the team will assess a variety of possibilities – from reducing the amount of food consumed, to precluding the ordering of meat products for events and kiosks.
The team concludes: "The new report lays down infrastructure that allows us to take a holistic view of the University's total greenhouse gas emissions and identify the activities that cause the most pollution. This way, we can build comprehensive plans to reduce emissions from these activities in the short, medium, and long term. Moreover, the report will allow us to monitor and inspect the reduction in emissions over time and compare the numbers with the original values. It is not trivial that the University is investing resources in collecting and analyzing the data – and it is even less trivial that the University is publishing this data – but we are committed to our strategic vision of striving to attain carbon neutrality in the future."