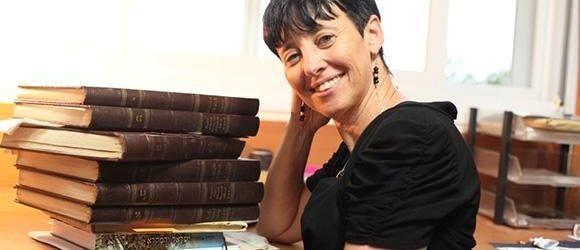 https://www.freunde-tau.org/wp-content/uploads/vered-noam-580_1.jpg
Prof. Vered Noam, chair of the Rosenberg School of Jewish Studies, is a true change-maker
TAU is delighted and proud to announce that Prof. Vered Noam, Chair of the Chaim Rosenberg School of Jewish Studies and Archaeology, will be the first-ever female recipient of the Israel Prize in Talmud this year.
The Israel Prize is Israel's highest honor. In addition to her outstanding research which has been recognized globally, Prof. Noam is widely lauded for mentoring junior scholars and for making Jewish texts accessible to the general public in Israel. Among other activities, she founded and manages a popular Facebook group for the discussion of Jewish texts.
Despite women's advances in the field of Jewish studies, women have not yet attained equality in the field, Noam told Israeli media. "In our world Jewish women have a right and a duty to be part of the multi-generational conversation of the Jewish people and to belong to study and Torah."
Tel Aviv University's Rosenberg School of Jewish Studies and Archaeology is leading a Jewish renewal movement in Israel. Inquisitive, open and cosmopolitan, the School provides a fresh, cross-disciplinary approach to the Jewish continuum—and is unique in the academic world.
Prof. Vered Noam (photo: Miri Shimonovic)