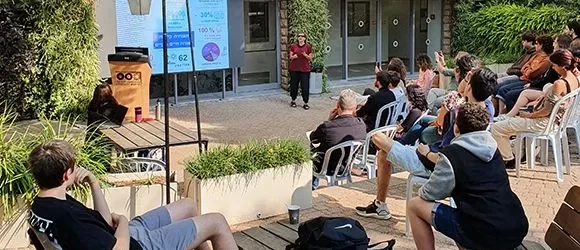 https://www.freunde-tau.org/wp-content/uploads/naftali-lecture-climate580_3.webp
Lectures, workshops, and hands-on initiatives attract hundreds of students and visitors.
As world leaders gathered at the UN climate change summit in Sharm el-Sheikh, the first climate day event of its kind took place here at Tel Aviv University campus. Researchers from various faculties participated, and the meetings touched on a wide variety of topics pertaining to the climate crisis, including the earth sciences, ecosystems, renewable energy sources, legal aspects, lifestyle and culture, history, fashion, activism, cities, and the financial sector. Participants attended TED-style lectures by leading researchers; expert panels; a special meeting for the younger generation with Tel Aviv University for Youth; workshops; screening of the film The True Cost, and there was even a clothes swap party.
The event was organized by PlanNet Zero – Tel Aviv University's Climate Crisis Initiative, and attracted a diverse crowd of students and faculty, representatives from the private sector, government and municipalities, children, high school students and others. The aim of PlanNetZero is to serve as a comprehensive, multidisciplinary think tank, bringing together dozens of researchers from units across campus – together with private, industry and government partners – to discuss and collaborate. The goal is to seek out solutions that bridge disciplines and actors, for adapting to climate change and for mitigating its harmful effects.
Dr. Yael Roth Barkai from TAU's School of Education manages the clothes swapping booth on TAU's Climate Day
It's Time to Act
"We wanted to convey that the academia recognizes that the climate crisis is top priority, and that we are partners in formulating an immediate, practical and relevant response," explains Dr. Orli Ronen Rotem, Head of TAU's Urban Innovation and Sustainability Laboratory, at the Department of Environmental Studies, Porter School of Environmental and Earth Sciences and member of the PlanNetZero Climate Crisis Initiative team. "The crisis, as well as the solutions, require many fields of knowledge, including from earth sciences and life sciences, to the fields of law, culture, policy and education. Parallel to what is happening in the world, and which is being discussed at the climate conference in Egypt, it is important to recognize and promote action in Israel and here on campus. Our research needs to be geared towards promoting solutions. We wanted to encourage the audiences to learn about the climate crisis from different angles, so that they can take part in the change." 
Saving the world in style. An expert panel on sustainable fashion held at TAU's Central Library. From left to right: moderator Yuval Ofer, Meital Peleg Mizrahi, Sybil Goldfainer, Maya Erzi, Liraz Cohen Mordechai and Mia Hershkovitz
The members of TAU's PlanNetZero Climate Crisis Initiative hope to see positive results from various events that are taking place in connection with the Sharm El Sheikh climate summit: "The official discussions are an important part of the world's countries handling of climate change," notes Dr. Shula Goulden from TAU's Environmental Studies and the PlanNetZero Climate Crisis Initiative. "This is the first conference that focuses, and rightly so, on adaptation and climate change assessments. It should produce practical and immediate ways to provide support to populations that are already affected by the crisis. However, the conference consists of much more than the official discussions. In addition to those, there are also hundreds, if not thousands, of affiliated events and side events taking place. We hope that this extensive activity will contribute to more awareness and political pressure on various sectors, enabling the adoption of stricter policies."
"The very existence of such a large event affects activities in the world in various ways, including a lot of activity at the national and local level. An example of this, is the joint effort on behalf of many academic institutions in Israel in preparation for the summit, with the organization of events on campuses, demonstrating awareness and commitment to the issue."
Dr. Ram Fishman, who is usually travelling with student delegations in developing countries, gave a TED-style talk in TAU's Social Sciences Library
In many disciplines, it takes time for academic research to reach professional audiences. In the context of the climate crisis, however, PlanNetZero members would like to speed up the process: "On this week's Climate Day event, we organized two consultation events: one of them was with the Tel Aviv Municipality, on the topic of promoting a sustainable lifestyle in the city, and the other was with the Ministry of Environmental Protection and representatives of companies in the financial sector, on new tools for managing climate risks."
"The participation of researchers and academics from the fields of policy, law and economics create new leverage, because today's big challenge in the field of climate is not technological but political, economic and social," they conclude.
Academics from various disciplines gathered to address the crisis. From left to right: Prof. Alon Tal, Dr. Dorit Kerret , Prof. Marcelo Sternberg and Prof. Iftach Yacoby, and Meital Peleg Mizrahi