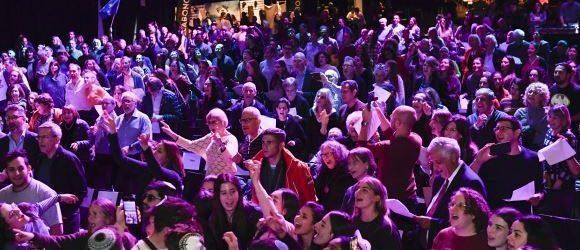 https://www.freunde-tau.org/wp-content/uploads/Crowd-580x330-1.jpg
The University jointly organized a solidarity event for the restoration of nature and wildlife Down Under
As a way of giving back to Australia at its time of need, Tel Aviv University co-sponsored a fundraising concert attended by 1,000 guests. The Australian Bushfire Relief evening, held jointly with the Zionist Federation of Australia, Jewish National Fund Australia (KKL) and the Australia-Israel Chamber of Commerce, took place on February 3 at Hangar 11, a gig venue at the Tel Aviv Port, a popular outdoor pedestrian area by the sea.
Income from the gathering was donated to the World Wildlife Fund for Nature (WWF), a global NGO focusing on wilderness preservation.
Keynote speaker Prof. Tamar Dayan of TAU's School of Zoology, who also chairs the Steinhardt Museum of Natural History, described the environmental ramifications of the wildfires.
"Only now are we starting to understand the magnitude of this disaster and how it will affect us all," said Prof. Dayan. "The physical scale of the damage is unprecedented; it is six times bigger than the outcome caused by the big wildfires in California in 2018. It is estimated that one billion animals were killed and others are at a real risk of extinction, meaning all the wildlife preservation efforts to date were reversed all at once."
According to Dayan, no government can prepare for a natural disaster of this scope, specifically the fires' duration and reach.
"There are many factors affecting the restoration of nature and wildlife, including the quantities of rain in the coming months and whether or not the drought lasts. The Australians are trying to assess the process of rehabilitating the damaged areas but only time will tell," she said.
Prof. Tamar Dayan (left) and Meir Buber. Photo: Jorge Novominsky, KKL-JNF photo archive
Prof. Dayan is one of a couple dozen researchers at TAU's George S. Wise Faculty of Life Sciences whose expertise in biodiversity, ecology, plant sciences, climate change and other fields are relevant for Australia's rehabilitation.​
"TAU enjoys a warm and longstanding friendship with Australia, its people and the Australian Jewish community," said Meir Buber, TAU Senior Executive for Resource Development for Australia, who co-organized the event on behalf of the University.  Australian organizations and individuals have supported the University generously over the years, especially for environmental causes, he stressed, and added: "Through this event we want to say thank you to the Australians for their deep rooted support for TAU."
T​AU co-organizer Gillian Rosner, Australia Liaison, added: "At the University we've had excellent relations with Australian business delegations, with the Australian Embassy, with Ambassador Chris Cannan and with his predecessors for years. For example, Cannan attended the Balfour Declaration centenary we hosted in 2017 at TAU. Now we're seeing an outpouring of sympathy by Israelis for Australia."
Vibrant and cheerful atmosphere
Donated for the evening by its owner, Melbourne-born Zev Eizik, the Hangar 11 venue hosted performances by Israeli social singing initiative Koolulam, reality show songstress Hagit Yaso, Israeli trumpet player Arik Davidov and Israeli-Australian musician Savannah Zwi. Comedian Jeremie Bracka, who is actually an Australian-Israeli human rights lawyer, performed stand-up.
Among attendees at the lively event were Ambassador Cannan, many former Aussies who immigrated to Israel, and residents of Israeli towns near Gaza who for years have received Australian support after rocket attacks. The crowd also included the Roim Rahok ("Seeing Far Ahead") organization and its trainees, youngsters on the autistic spectrum who are prepared for integration into military service.
The book "Frank Lowy: Pushing the Limits" by Jill Margo telling the story of the Australian-born TAU benefactor was sold at the event in benefit of the WWF.
Australian Ambassador Cannan tweeted his appreciation after the fundraiser: "Thank you Israel for showing, in a big way, your support for Australia's bushfire recovery. An amazing night of comedy, singing and fundraising for the one thousand Israelis there to support their mates from down under at a tough time." 
The crowd singing at the Australian Bushfire Relief event. Photo: Jorge Novominsky, KKL-JNF photo archive