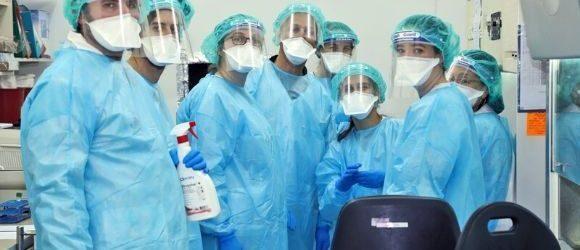 https://www.freunde-tau.org/wp-content/uploads/volunteers1580-1_0.jpg
Over 1000 medical and graduate students join initiative to assist medical and laboratory teams.
Israeli hospitals and universities, including Tel Aviv University, have joined forces to build an enormous student volunteer base to expand and improve the detection of people infected with novel coronavirus all over Israel. In addition, TAU, together with the Weizmann Institute of Science and other institutes in Israel, have recruited over 600 doctoral students to volunteer their time and assist overburdened hospitals process coronavirus tests in laboratories.
The medical student initiative was launched by researchers and doctors at Chaim Sheba Medical Center, Hadassah Medical Center and Shamir Medical Center, together with the co-chairs of the Medical Students Association, which represents medical students at Israel's five universities.
The volunteer base is geared at scaling up Israel's capacity to conduct tests and produce critical coronavirus infection results more quickly. Accordingly, over 1,000 medical student volunteers from all over the country are helping Magen David Adom, Israel's National Pre-Hospital Medical and Blood Emergency Services Organization (MDA), collect test samples from people in communities across the country.
"Dozens of volunteers have already joined MDA medics in collecting test samples this week, and some have even started to carry out the tests themselves," says Prof. Carmit Levy of the Department of Human Molecular Genetics and Biochemistry at TAU's Sackler Faculty of Medicine, who is involved in this initiative.
This week, five doctoral students underwent coronavirus testing training, led by Prof. Ohad Gal-Mor of TAU's Sackler School of Medicine and the head of the Sheba Infectious Diseases Research Laboratory.
"It is inspiring to see students from all of the higher education institutions in the country enlisted bravely and resolutely to establish new laboratories and to assist existing laboratories in their efforts against the coronavirus," Prof. Levy adds.
The doctoral student volunteer mission was the brainchild of TAU, the Technion, Hebrew University, Bar-Ilan University, Ariel University and many medical centers, including Sheba, Shamir, Hadassah, Soroka, Wolfson, and Tel Aviv Sourasky Medical Center. Several HMOs are also taking part in this effort in full coordination with the Ministry of Health.
"The level of collaboration between faculty, physicians, health professionals and medical and graduate students at the universities, hospitals, HMOs, MDA, and Ministry of Health, is unprecedented in Israel," concludes Prof. Karen Avraham, Vice Dean of TAU's Sackler Faculty of Medicine. "This will set the stage for years to come for how much we can accomplish when working together so selflessly."
Volunteers in a MEUHEDET HMO. (Photo: MEUHEDET HMO)