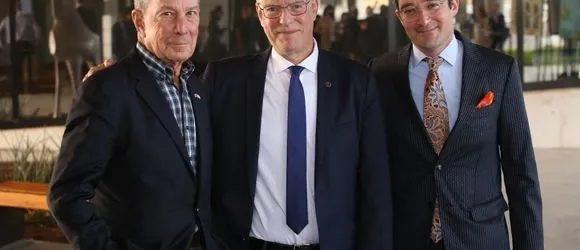 https://www.freunde-tau.org/wp-content/uploads/Left-to-Right-Michael-R.-Bloomberg-Prof.-Ariel-Porat-and-Yossi-Sagol-Credit-Chen-Galili-580.jpg
New TAU program will help mayors of cities across Israel improve services, strengthen social bonds, and foster relationship with mayors globally.
Bloomberg Philanthropies and The Sagol Family announced a major new effort to strengthen local leadership across Israel through The Bloomberg-Sagol Center for City Leadership at Tel Aviv University. Inspired by the Bloomberg Harvard City Leadership Initiative, the new program aims to help mayors of cities across Israel deliver better and more equitable public services to residents, strengthen social bonds, and deepen ties to the global community of innovative city leaders.
"Israel's local authorities have a much greater impact on citizens' lifestyles and quality of life than the central government," said Professor Ariel Porat, President of Tel Aviv University. "The quality of sanitation, transportation, welfare, education, and health services mostly depends on the local authority's performance. This new program aims to improve the management of local authorities in Israel, thereby enhancing the quality of life of Israelis throughout the country."
Mayors on the Front Lines
"The series of recent terrorist attacks in Israel underscores the urgency of this new initiative, which is aimed at helping mayors confront their most difficult challenges and most pressing crises," said Michael R. Bloomberg, founder of Bloomberg LP and Bloomberg Philanthropies and 108th mayor of New York City. "Mayors are on the front lines of every crisis, whether it's terrorism or a pandemic. The Bloomberg Harvard program has proved phenomenally successful, and now we're glad to team up with our partners in Israel on a new program that builds on our success and will help local leaders across the State of Israel."
In 2016, Bloomberg Philanthropies and Harvard University established the Bloomberg Harvard City Leadership Initiative, an unparalleled effort by Harvard Kennedy School (HKS) and Harvard Business School (HBS) to build the leadership capabilities of mayors and their teams. By engaging 40 mayors and 80 senior city leaders each year, this program develops effective organizational practices in city halls around the world, invests in a new generation of city leaders, and advances knowledge and establishes the field of city leadership at large. The program has trained 196 mayors and 318 leaders from 25 countries in the past five years.
Yossi Sagol began working with Bloomberg Philanthropies in 2018 to develop an Israel-based program similar to the Bloomberg Harvard City Leadership Initiative that could strengthen the country from the local level up. The Bloomberg-Sagol Center for City Leadership is the first-ever initiative inspired by the Bloomberg Harvard program and will be housed at Tel Aviv University's Coller School of Management under the direction of Dean Moshe Zviran, the inaugural Faculty Director of the Israel City Leadership Initiative.  
"Mayors are required to make decisions that impact tens or hundreds of thousands of people and manage huge budgets, but most of them lack experience in managing organizations that are as large and complex as a local authority," said inaugural Faculty Director Moshe Zviran. "The job of mayor requires a vast range of managerial skills at the highest level and in our new program we intend to equip participants with helpful insights and a useful toolbox for making critical decisions and implementing innovation in the urban environment. Here they will also learn about developments in other cities, both in Israel and around the world." 
Elad Mayor Yisrael Porush, Yossi Sagol, Knesset Member Yoav Gallant, and Sami Sagol at the launch event (Photo: Chen Galili)
Year Long Program
The Bloomberg-Sagol Center for City Leadership will focus on developing the leadership and management skills of mayors and their senior aides, while strengthening city hall operations. Specifically, the year-long program will build critical capabilities in fostering collaboration, using data in decision making, negotiation, crisis management, resident engagement, and generating and implementing innovative ideas through:
•    Executive Education: Mayors and senior leaders will receive instruction in how to build leadership and management skills conducted by Coller School of Business and other Tel Aviv University disciplines. The mayors will conclude the year with additional training and networking hosted by Bloomberg Philanthropies and Harvard University in New York City and Boston, in the United States.  
•    City Innovation Projects: Each mayor will receive innovation training and support to address an urgent issue facing their city with coaching and technical assistance from Hazira, an Israeli national program that establishes and guides innovation teams in local government across the country.  
•    Summer Fellowship Program: Tel Aviv University students will take part in a 10-week summer fellowship program in participating mayors' offices throughout Israel.
•    Local Government Alumni Network: The program will forge a local leadership network that will bring together all program participants and eventually alumni – mayors, municipal chiefs of staff and other senior city leaders – to share and adapt best practices and innovative policy ideas. The network will also serve as a platform for continuous education for participants and alumni.
•    Research Program: The program will convene scholars from across Tel Aviv University to conduct applied research on a wide range of topics that are relevant to effective leadership and management in cities. 
The State of Israel has about 260 cities and towns with mayors. The Bloomberg-Sagol Center for City Leadership will invite applications and up to 20 mayors will be admitted each year. Selected mayors will also invite two key members of their team to go through the program. The first class of mayors will be announced in fall 2022. All expenses for the city hall officials program participation will be covered by this philanthropic funding through Tel Aviv University.
The program was inaugurated at a festive event at the Steinhardt Museum of Natural Science. Michael Bloomberg and Yossi Sagol were among speakers along with US Ambassador to Israel Tom Nides and Oakland, California Mayor Libby Schaaf, an alumna of the Bloomberg Harvard program. Over a dozen Israeli mayors were also in attendance.
Over a dozen Israeli mayors attended the inauguration of The Bloomberg-Sagol Center for City Leadership at the Steinhardt Museum of Natural History at TAU (Photo: Chen Galili)
Featured image: Left to Right: Michael R. Bloomberg, Prof. Ariel Porat and Yossi Sagol (Photo: Chen Galili)