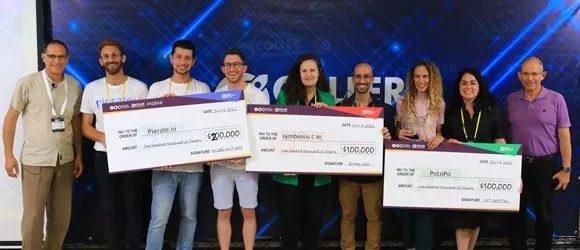 https://www.freunde-tau.org/wp-content/uploads/winning-teams-580.jpg
These teams wowed the judges with their innovative ideas at this year's Coller Startup Competition.
The sixth annual Coller Startup Competition final took place recently on TAU campus, as the final teams of TAU students and alumni pitched their startups for an investment of $100 000 on each track.
Encouraging Entrepreneurial Venturing
The goal of the competition is to encourage TAU students and alumni to engage in entrepreneurial venturing and launch successful startups, and previous winners have gained recognition, support, and millions of dollars in follow-on investments. Diverse team are welcome to join, hailing from different faculties and disciplines.
Dr. Eyal Benjamin, Head of Entrepreneurial Projects, Coller Institute of Venture, and Director of the Coller Startup Competition, opened the event stating that "Being a unicorn should not be perceived as the 'holy grail'. Being successful and achieving what you set out to achieve with your venture – that is the 'holy grail'. First, it is important to articulate what you wish to achieve and your desired reach. That's what we're doing here. We help [TAU students and alumni] move forward and grow their ventures. This is the reason why the competition was established in the first place." 
The Coller $100,000 Startup Competition was established five years ago, by Mr. Jeremy Coller, Chief Investment Officer at Coller Capita and Co-Founder of the Competition and Chief Entrepreneurship and Innovation Officer at the Coller School of ManagementProf. Moshe Zviran. It is a multi-staged process, offering mentoring and enhancement process for participating startups, as investors and innovation experts give valuable feedback on the ventures, serving the startups for the long run. At the final event, the teams gain exposure to additional investors who come to watch the ventures' presentation.  
Multiple Tracks
We did not envy the 52 judges (among them were VCs, angel investors, academics and entrepreneurs), as we listened to 13 hopeful teams (out of the 110 startups that applied) who took turns pitching their ideas. Each team got five minutes to wow the judges.
The ideas presented were diverse – covering tools to help children with special needs, personalized real time makeup assistance, production of egg proteins, solutions for the freight forwarding industry, and more.
Whereas last year's competition featured only two tracks, Prof. Zviran explains, "We started with the Technology track. We then proceeded to add the food tech track – and this year, we've chosen to distinguish between Deep Tech and Online, which means that this year we offer three separate competition tracks." The plan is to expand to include additional tracks, covering additional fields with new partners.   
The judges of the Coller Startup Competition 2022 had to make some tough decisions (photo: Nimrod Glickman)
Taking the Chicken out of the Equation
This year's winner of the FoodTech track (the only track that is not preconditioned by TAU affiliation) was PoLoPo, a biotech startup developing a plant platform for high-scale, economical custom-made production of proteins. PoLoPo exploits the full potential of plants as diverse metabolite and green protein factories, and have successfully engineered egg proteins (= animal proteins), without chickens. Eliminating the need for chickens is good news for those of us who do not eat regular eggs, as well as for the climate and the environment, and in particular given the context of recent bird flu viruses. The founders of the startup are Dr. Raya Liberman- Aloni and Dr. Maya Sapir-Mir. 
PoLoPo share celebrate their victory on their LinkedIn page
In a Heartbeat
Symbiosis won the DeepTech Track. The Symbiosis team are developing a novel personalized platform for anchoring and sealing of irregular anatomical structures in real time, with emphasis on the mitral valve apparatus for moderate to severe MR patients. Or, in simpler terms, the project is developing a solution to the problem of heart failure.
The project's Co-Founder, Shira Burg, got the idea after witnessing many dogs suffer from the problem as a veterinarian. Today, she is a doctoral student in the field of electrophysiology of the heart at TAU's Sackler Faculty of Medicine, and symbiosis C.M. offers a solution to the problem for humans (and in the future also in dogs). Burg and second Co-Founder, Varda Badet, also a TAU alumni, were awarded a $100,000 investment from Coller Capital.
Insert a Good Shipping Quote Here
Due to the significant changes Covid-19 brought to the freight forwarding industry, companies are looking for solutions to stay competitive. According to Pierate.io, winner of this year's Online track, the global shipping industry is "inefficient, outdated, and manual," and the company argues that "one quote should not take so long to generate." Pierate.io offers a SaaS platform which collects data from all sources to allow the freight forwarders' sales teams to generate highly accurate price quotes in just a few clicks."  
Pierate.io won the online track at a $100,000 investment by PALSAR Ventures (specializing in early-stage investments in the online field)), which was surprisingly joined by Jeremy Coller, who pitched in with an additional $100,000 investment while the team was still on stage.
A happy post on Pierate's LinkedIn page
The company's founders, Eyal Daniel, TAU alumnus Sidney Feiner and Maayan Weinheber, also a TAU alumnus, went home (or perhaps to the nearest bar to celebrate?) with a check totaling $200,000.
The Pierate team left the competition $200,000 richer. From left: Prof. Moshe Zviran, Chief Entrepreneurship and Innovation Officer at the Coller School of Management; Adv. Eyal Bar-Zvi, Partner in PALSAR Ventures Fund; Pierate CEO Eyal Daniel; CTO Sidney Feiner; CEO Maayan Weinheber and Dr. Eyal Benjamin, Director of the Coller Startup Competition (photo: Shlomi Mizrahi)
Congratulations to the winning teams and good luck with your new ventures!
Featured image: Dr. Eyal Benjamin (far left) and Prof. Moshe Zviran (far right) with the competition's winning teams