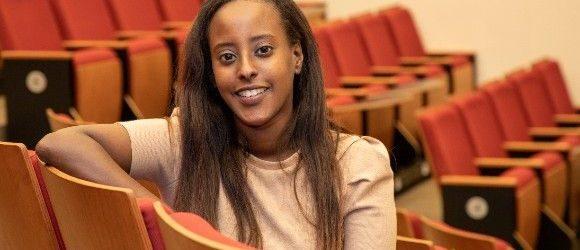 https://www.freunde-tau.org/wp-content/uploads/Lea-FINAL1-580.jpg
For Glaser Scholar Lea Tamanyo, making positive change starts with helping individuals.
By Melanie Takefman
TAU graduate student Lea Tamanyo isn't afraid of challenges; she's had to overcome many herself, both in her personal life and academic career.
For example, as an undergraduate student in social work, she chose to gain practical experience in one of the most difficult and complex subfields at the outset—mental health. "This area is considered hard-core in social work, but when I first started I wanted to explore different fields so I took the plunge."  
As she enters her second year of a master's degree at TAU's Bob Shapell School of Social Work, Tamanyo realizes that this field, despite its complexities, is her calling in life.
Even before becoming a social worker, Tamanyo, a recipient of the Herbert and Sharon Glaser Foundation scholarship, worked at an assisted living facility for men who suffer from mental illnesses. Many of them have had particularly difficult lives. At first, it wasn't easy, she says, but slowly she became absorbed in their lives. She developed an especially strong relationship with three of her clients. "I quickly understood that their diseases don't define them. They have so much more to them than that.
"I was drawn by the fact that I could be the one to make a positive change, that I could help them lead their best lives. I felt like I had reached the right place," she says, the emotion patent in her voice. "The work fulfills me and gratifies me immensely."
Now, armed with an undergraduate degree in social work, she works part-time at the same facility, alongside pursuing graduate studies at TAU.
Tamanyo's interest in social work was sparked during her post-high school national service at Schneider Children's Medical Center of Israel. "The way all the different professionals interacted to help the children captivated me," she says. She chose social work because she likes the idea of "helping people help themselves."
Tamanyo herself, the seventh of eight children, is no stranger to adversity. Her parents immigrated to Israel in 1991 from Ethiopia and were sent to live in a caravan compound in northern Israel. Lea says that it was difficult for them to learn Hebrew, acclimate to the Israeli mentality, and earn a living. Her father is fully disabled, and her mother works as a caretaker for the elderly, the only job she could get without an education.
"My siblings and I studied by the skin of our teeth," said Lea. "Our parents couldn't help us with schoolwork, and there was no money for private tutors or extra-curricular courses. I learned how to be self-reliant and teach myself."
Despite her parents' modest means, they instilled in their children a strong sense of purpose, perseverance, and the value of education. "They want us to succeed professionally, so that we will have what they didn't."
Lea says her parents encountered a lot of ignorance, on the part of veteran Israelis, about their culture. "Sometimes, it's simply a lack of awareness, not something intentional, because when you're not familiar with something, it can appear strange… At the end of the day, we are all immigrants, and we have to accept the other. Everyone brings with them a different color."
Although Lea herself hasn't encountered the difficulties her parents did, it's clear that their experiences have shaped her identity and professional path. Seeing the best in every person, beyond their background or social identity, is something that guides her.
Doron Kochavi and Tammy Glaser Kochavi
"Lea is a very talented, ambitious and forward-looking young woman, who is committed to contributing to the country through her professional skills," says Doron Kochavi, a TAU Governor, who, with his wife, fellow TAU Governor Tammy Glaser Kochavi, selected Lea as one of the recipients of the Herbert and Sharon Glaser Foundation Scholarship. 
​​"We believe that the way to create positive change in this country is to support individuals, like Lea, who want to strengthen the melting pot in which we live. In this respect, social workers play a vital role because they help the weakest members of society overcome challenges and realize their potential."
"I am grateful to the Herbert and Sharon Glaser Foundation, and the Kochavi family for my scholarship because it frees me from financial worries and allows me to focus on my studies," says Tamanyo. "Especially now in the era of Corona, when there is less work, it is truly a blessing."
featured image: Glaser Scholar Lea Tamanyo. Photo: Moshe Bedarshi.