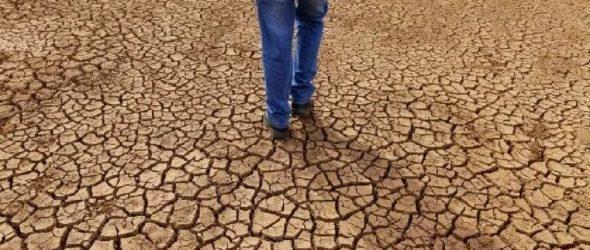 https://www.freunde-tau.org/wp-content/uploads/Man-walking-desert-climate-change-violence-580.jpg
Findings demonstrate first direct link between climate change and criminal behavior.
Rising temperatures increase the likelihood of violent crimes, according to a new study led by Tel Aviv University's Dr. Ram Fishman of TAU's Department of Public Policy, Gershon H. Gordon Faculty of Social Sciences. 
The novel findings indicate that for every 1-degree Celsius rise over the average daily temperature, the rate of violent crime spikes by one percent. The victims are generally ethnic and religious minorities, women, and political rivals.
​
The study is the first of its kind to link the day-to-day relationship between weather changes and criminal trends in the developing world.  
​"This is a glaring warning sign of the devastating and worrying consequences of the global climate crisis," said Fishman, who conducted the study with partners from the UAE, India and the US. "These consequences are already here with us and are gnawing at the very foundations of social and human existence." 
Dr. Ram Fishman (Photo: Noga Shahar)
​In the context of the study, Fishman examined a representative state in India with a crime rate similar to the national average. Results from parallel studies in other countries yielded similar results according to Fishman, Head of the Sustainable Development Lab at TAU's Boris Mints Institute for Strategic Policy Solutions to Global Challenges. He explained that the analysis performed in India can be tailored to other locations, where he expects similar results.   
The team gained unprecedented access to troves of crime records from 600 police stations in Karnataka, India. The "big data" sets included the exact date, location and type of crime reported over a six-year period. Using advanced statistical analysis methods, the researchers compared crime data to daily and seasonal weather conditions. In this way, they discovered the correlation between weather and crime at a level more accurate than previously possible. 
The researchers pointed to higher temperatures causing increased aggression as one likely factor driving this phenomenon. Further demonstrating the link between heat and higher day-to-day violent crime, the findings showed that non-violent property crimes were largely unaffected by daily weather. Fishman and team added that severe heat can cause lower agricultural yields, leading to higher unemployment rates and increased economic hardship. However, these economic motives were primarily associated with increased crime rates over time—not on a daily level. The study's authors note that previous research in developing countries was limited. Population in these regions typically face relatively higher temperatures and are less able to shield themselves from these conditions. 
Their findings are in the December 2021 peer-reviewed issue of the Journal of Economic Behavior and Organization.