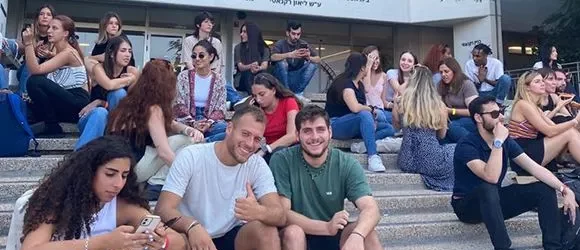 https://www.freunde-tau.org/wp-content/uploads/nihul580_3.webp
Over 3000 freshmen attend Tel Aviv University's fall semester orientation day.
Just before the academic school year begins in Israel on Sunday October 23, 3,000 freshmen attended TAU's "First Date" event, organized especially for them by the University and its Student Union, to help students arrive ready and confident for their first day of studies.
The day was packed with activities, ranging from lectures, campus tours and faculty visits to musical performances, sports and celebrations. The freshmen met with TAU alumni and current students who gave them an inside look at their favorite Tel Aviv University moments and shared tips and tricks. In the afternoon, students toured the museums and libraries on TAU campus and ended their summer with a big dance party on the central lawn.
Now, they are officially part of the TAU campus community.
The New Kid in Class, 2023-Style
"If you've ever experienced being the new kid in class, you're probably familiar with the mixed feeling of apprehension and excitement. We wanted to give our new students a special welcome – an exciting 'first date' with the University, and with each other. We wanted to make sure that their first experiences on TAU campus would be more exciting than the plain: 'Yay, I've finally found the right lecture hall' reaction," explains Sharon Ariel, TAU's Marketing Director.
"We created an event where each new student could schedule his or her own day, and decide what meetings to attend," she adds.
Opening ceremony at the Faculty of Life Sciences (Photo: Chen Galili)
What Happened on the "First Date"?
The new students got a taste of the best that our campus has to offer. They could choose from a myriad of inspirational lectures in a wide variety of fields, from poetry in hip hop and ecological fashion to practical lectures related to student life, including on decision making, stress management and networking.
Students and graduates were mobilized and took part in special panels where they shared their experiences as students. The sports center held kickboxing, yoga and Zumba training on the lawn, and the event ended in a huge party, Tel Aviv-style.
The lecture halls were filled with curious minds (Photo: Chen Galili)
The students did not leave empty-handed: incoming female students model the collection of bags that were distributed as gifts (Photo: Chen Galili)
Just before the DJ got on stage, the president of the university, Prof. Ariel Porat, and the rector, Prof. Mark Shtaif, congratulated the celebrants and wished them all a successful academic year.
The president of the university, Prof. Ariel Porat, welcomes the new students (Photo: Chen Galili)
This is how you start a study year! (Photo: Chen Galili)