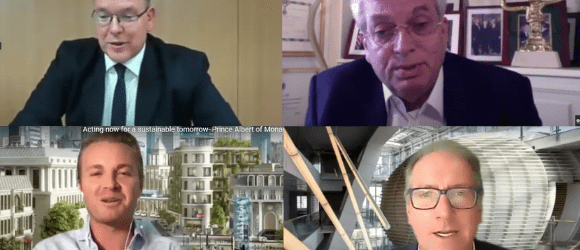 https://www.freunde-tau.org/wp-content/uploads/Prince-of-Monaco-Zoom-photo-.png
Frenkel Initiative for Combating Pollution but one example of productive ties between TAU and Monaco, says Albert II, during online event
Tel Aviv University held an online meeting on September 24 with the Prince of Monaco, Albert II, together with entrepreneur, investor and philanthropist Aaron G. Frenkel, Prof. Colin Price, Head of the Porter School of the Environment and Earth Sciences and Head of the Frenkel Initiative for Combating Pollution, and Mr. Nico Rosberg, a sustainability entrepreneur and Formula One World Champion.
The meeting, which addressed environmental issues and sustainability development, was also attended by TAU President Prof. Ariel Porat and Prof. Francois Heilbronn, President of the French Friends of Tel Aviv University, who acted as moderator.
Years of collaboration
The Prince has actively promoted environmental causes for many years, leading quite a number of environmental initiatives, both local and international. In 2006, he established the Prince Albert II of Monaco Foundation which advances environmental protection and sustainable development, supporting studies and research on environmental issues, technological innovation and social awareness practices.
TAU and Monaco have been collaborating for several years. In December 2017, a delegation from TAU participated in a gala event focusing on the environment, smart cities and ecology, in collaboration with the Foundation.
In June 2018, Prince Albert II received an Honorary Doctorate from TAU, in recognition of his deep commitment to preserving the environment for future generations, while promoting collaborations for finding solutions to problems of climate, water and ecosystem diversity.
Last September in Monaco TAU launched the Frenkel Initiative for Combating Pollution, supported by Aaron Frenkel. This initiative is a continuation of the joint agreement for combating pollution signed during Albert II's visit to TAU in June 2018. "Many organizations in Monaco are now connected with scientists from Tel Aviv university, working on different projects for combating pollution," Frenkel says. "I hope others will join me, and we could create a momentum of projects bettering our places and the world as such."
The joint initiative will support applied research at the Department of Environmental Studies and the Department of Geography and Human Environment at TAU's Porter School of the Environment and Earth Sciences. Research will focus on solutions for problems of air pollution, while also supporting Monaco's activities in the fields of energy efficiency and renewable energy. "In the Porter School of Environment, we are trying for the last six years to promote innovative startup companies in the field of smart abilities. We just recruited a new round of startups last week thanks to the generous support of Mr. Frenkel and the collaborations with Monaco," says Prof. Price.  
Featured image: Top left clockwise: Prince of Monaco, Albert II, Aaron G. Frenkel, Prof. Colin Price and Mr. Nico Rosberg