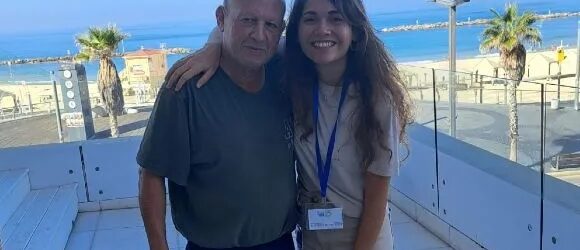 https://www.freunde-tau.org/wp-content/uploads/IMG-20231107-WA0004.jpg
TAU Social Work student Ella Roim works with survivors, says all Israel is helping recovery.
As Israel struggles through a war set off by one of the worst events in its history, families from victimized communities have been evacuated from their homes and are just beginning to process what they experienced. Many are staying in venues in Tel Aviv (including in the Tel Aviv University dorms), where psychologists and social workers have been brought in to help redress their needs.  
 One such counselor is Ella Roim, a second-year master's student at TAU's Bob Shapell School of Social Work. She also works with at-risk girls while training as a clinical social worker for youth. When the war broke out, Roim was assigned to a Tel Aviv hotel to work with evacuated families from Sderot, a small city near the Gaza border which was already the target of constant rocket attacks for many years before terrorists infiltrated on October 7th.   
  Calming the Chaos 
 "The first step has been making sure the evacuees' most basic needs are met. Food, clothing, baby formula, toiletries. Here and there, I get the chance to talk with them and hear what they're feeling," Roim says. She and her fellow workers' main task thus far has been gathering donations and recruiting volunteers.  
Roim says that for the first few days, things were chaotic. Sderot is a community with many children, and parents are so emotionally and physically exhausted that helping the children stay calm is extremely difficult. On top of that, both children and parents are in a state of panic as they grapple with the recent trauma and with the uncertainty of when they will be able to return home—and whether their homes are even there anymore. "Right now, they feel like refugees." 
 During her talks with the survivors, Roim hears repeated expressions of fear and disillusionment. "We Israelis always felt that we were being kept safe, and that we could live our lives because we trusted the army. These people waited hours in fear for the IDF to show up…for them, that trust has been broken." Some of the victims have trouble eating and sleeping, Roim says, and some continue to have flashbacks.  
Survivors at Roim's Tel Aviv hotel release many balloons as a gesture of solidarity with the over 200 hostages still held in Gaza.
Community Support 
  Even as things seem grim, Roim emphasizes that the Israeli people have truly come together to ensure these families can get the care they need. "Every single call I've put out for donations has been answered in a matter of hours. Tons of volunteers have come to help clean up the hotel, to play with the kids, to offer various treatments and services, and more." She says that among the volunteers are professional psychologists, counselors, and even beauticians who offer things like free makeup and haircuts.  
 "I feel like the goal of the country right now is to help survivors feel that they're not alone and that we have their backs." She says that though the work is very challenging and emotionally draining, she loves the people she works with and she finds strength in Israel's communal response.  
 Roim partially credits her studies at TAU with helping her feel prepared for her fieldwork. "The professors are also working professionals; I feel like I'm learning from people who have real experience in the field."