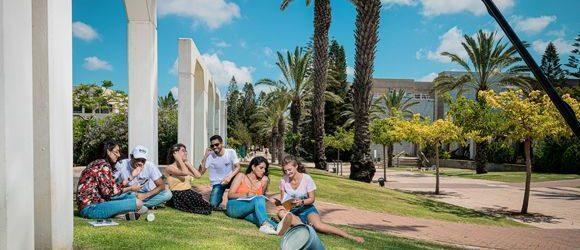 https://www.freunde-tau.org/wp-content/uploads/students-on-campus-580.jpg
Johns Hopkins SAIS and Tel Aviv University launch cooperative degree program.
Tel-Aviv University (TAU), Gershon H. Gordon Faculty of Social Sciences and the Johns Hopkins University School of Advanced International Studies (SAIS) have partnered to launch a cooperative degree program.
Two Master Degrees in Two Years
This two-year program will enable students to earn a Master of Arts in International Affairs at SAIS Europe, the school's European campus located in Bologna, Italy, and a Master of Arts at Tel Aviv University International (TAUi) in one of the following English-led degree programs: Conflict Resolution and Mediation, Cyber Politics and Government, Developing Countries, and Security and Diplomacy. All programs share a similar intent: To focus on current 21st century global challenges and offer ways of mitigating and solving them. Students in this two-year program spend one year at each campus and can choose to begin their studies in either Bologna or Tel Aviv.
SAIS Europe Director, Michael Plummer says "the new cooperative degree with Tel Aviv University provides students the opportunity to experience two distinct academic, social, and cultural environments, to develop a global perspective, and to better understand the challenges facing Europe and the Middle East. It is an excellent opportunity for students interested in a multidisciplinary, international tool-based graduate education in international affairs."
"The Faculty holds an important role and duty of making current, updated and precise knowledge available to its students and researchers around the world. Our agenda is to train and equip the students with knowledge and experience to enable them to improve our society and help create a better world. We are proud and excited to launch a collaboration with the Bologna branch of Johns Hopkins University," adds TAU Social Sciences Faculty Dean, Prof. Itai Sened.
An Experience of Growth and Non-stop Discovery
TAU International (TAUi) is host to nearly 3,000 international students from across the globe each year. Its 60 English-led academic programs are designed to empower its graduates through academic excellence, diverse experience, and non-stop discovery. 
"We offer our students at TAU International the chance to experience of growth and non-stop discovery on many levels. The collaboration between academic research and policy-making giants like TAU and Johns Hopkins, will surely be a leap for any student who seeks to reach new heights in search of today's seemingly unsolvable global challenges," says Orit Coty Marketing Director of Tel Aviv University International.
Make the most of your Master's and become a true leader in policy making and world development by participating in the cooperative program between Johns Hopkins and Tel Aviv University. Applications for 2022-2023 will open soon and end in February 2022.
On Nov 17th, 2021 at 11am (Israel time) there will be a hybrid information session for prospective students with Prof. Itai Sened, along with Daniela Coleman, who is the Director of Admissions at SAIS Europe, and the program coordinators at TAU. They will be talking about the MA program, Daniela will describe the Bologna part of the experience, and all will answer questions. The in-person event will be held at the Faculty of Law Trobovich Building, Room 204, and there is also a Zoom registration link for those who won't be able to attend live. 
For more information on registration to TAU's international programs, visit international.tau.ac.il. 
Featured image: International students enjoying the beautiful Tel Aviv University campus