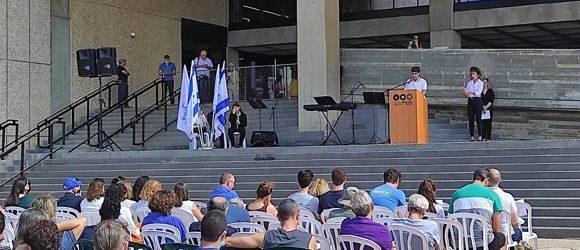 https://www.freunde-tau.org/wp-content/uploads/rabin-dovrot-580.jpg
Commemorating Yitzhak Rabin, 26 years after his assassination.
Hundreds of students and faculty members gathered to show their respect to late Israeli Prime Minister Yitzhak Rabin, 26 years after his assassination. The speakers at the event were Prof. Eyal Zisser, Vice Rector of Tel Aviv University; Prof. Simha Goldin, Historian and Head of the History Teaching Profession Committee and father of Hadar Goldin (Lieutenant in the Givati Brigade of the IDF who was killed during the military Operation Protective Edge in 2014, his body still held in Gaza by Hamas terrorists) and Lior Hazan, Chairwoman of Tel Aviv University's Student Union.
"Violence is not an order. It is a choice"
Prof. Eyal Zisser called on the TAU community to take on the task of changing the discourse in Israel and to displace the growing culture of violence. "Rabin wanted to forge a path for peace," said the professor, adding that Rabin "experienced something which many of those involved in state security had experienced. Those who had experienced wars, fought fiercely and made significant sacrifices acknowledged the futility of wars and their destructive impact on every good part of the social, political and human fabric. In his remarks, which he repeated in many of his speeches, Rabin noted that in wars there are winners and losers. In peace, everyone wins."
Professor Zisser added that Rabin's assassination was a painful and traumatic event for Israelis, that still resonates today. "We still haven't stifled the fire of fanaticism and hatred. We have allowed intolerance and brutality to fill the gap [which has worsened since Rabin's assassination]. Thus, the longing for Yitzhak Rabin is overshadowed by concern for the society he left behind," said Prof. Zisser.
TAU students and faculty members honor late Israeli Prime Minister Yitzhak Rabin on the Memorial Day services held on campus (Photo: Michael Plotno, Tel Aviv University's Student Union)
"Violence challenges social values and moral norms, and threatens to undermine the foundations of the state. Violence is not an order. It is a choice. Let us not put up with it. It is important to listen to minority opinions with utmost attention, and take into account the hardships, fears and the inhibitions experienced by the individual as well as by the many."
"We, the TAU community and its alumni, have a responsibility to decisively change our daily, social and public discourse." He called for another discourse that brings back "moral boundaries, based on the principle that someone who holds different opinions is not thereby a traitor. 26 years after the murder it is right to return boldly and emphasize that there must be no tolerance and understanding when it comes to manifestations of racism, violence and fanaticism. We must take a strong stance in the face of fanaticism, which has intensified in recent years, so that democracy is not destroyed."
Filling the Void that Was Created
Prof. Goldin spoke about Rabin's courageous path, noting that the former prime minister was not afraid to pioneer change. The professor asked this generation of students to assume responsibility and establish a new, honorable and courageous leadership.
"A generation has passed, and we've learned nothing. I expect you to fill the void that was created and save this wonderful country from itself," said Prof. Goldin, urging the participants at the event to behave like Rabin. Instead of looking for culprits, they should take responsibility.
Prof. Simha Goldin (Photo: Michael Plotno, Tel Aviv University's Student Union)