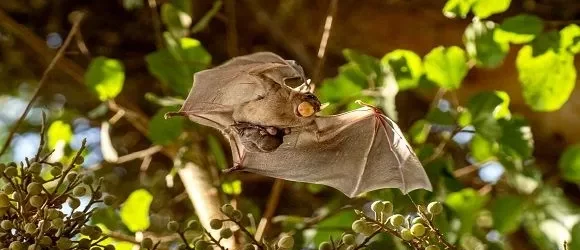 https://www.freunde-tau.org/wp-content/uploads/bat-and-mom-580.webp
TAU researchers find that baby fruit bats acquire their boldness from their adoptive mothers.
Tel Aviv University researchers conducted the first ever "cross-adoption" behavioral study in bats, whereby pups of urban fruit bats were adopted by rural mothers and vice versa in order to learn whether the relative boldness of city bats is a genetic or acquired trait. Prof. Yovel: "We wanted to find out whether boldness is transferred genetically or learned somehow from the mother. Our findings suggest that this trait is passed on to pups by the mothers that nurse and raise them, even when they are not their biological mothers." Thus, the bat species' willingness to take risks is an acquired rather than hereditary trait, passed on in some way from mother to young pup
The study was led by TAU's Prof. Yossi Yovel, Head of the Sagol School of Neuroscience, member of the School of Zoology at The George S. Wise Faculty of Life Sciences and The Steinhardt Museum of Natural History, and recipient this year of the Blavatnik Young Scientists Award in Israel and the Kadar Family Award for Outstanding Research at TAU. It was conducted by Dr. Lee Harten, Nesim Gonceer, Michal Handel and Orit Dash from Prof. Yovel's laboratory, in collaboration with Prof. H. Bobby Fokidis from Rollins College in Florida. The paper was published in BMC Biology.
Rural Bats More Risk Adverse
Dr. Harten explains: "While most animals do not live in an urban environment, some species thrive in it. We are trying to understand how they do this. Fruit bats are an excellent example of a species that has adapted well to the human environment of the city. Bat colonies thrive in Tel Aviv and other cities, while other colonies still live in rural areas. Research has shown that city-adapted fruit-bats tend to be bolder and take more risks than those living in the wild. We wanted to examine, under laboratory conditions, whether this trait is genetic or acquired.
In a preliminary experiment the researchers placed food inside a box that required adult bats to land and enter in order to get the food. They found that urban bats solved the problem immediately, while rural bats hesitated and took several hours to learn the trick. Prof. Yovel: "Similar results were observed in past experiments with birds: birds living in the city take more risks than birds of the same species residing in rural areas. Our study was the first to test this issue in bats."
Bat Boldness: Genetic or Acquired?
The next step was testing whether this boldness is a hereditary trait, or a quality acquired by experience. To this end, the researchers conducted the same experiment with young bat pups, still fed by their mothers, who had never searched for food independently. They found that the urban pups, just like their parents, are bolder and learn faster than their rural counterparts.
Prof. Yovel: "These findings first led us to think that boldness is hereditary – passed on genetically from the urban parents to their pups. However, we know that young pups are still exposed to their mothers after birth. We decided to check whether pups learn from their mothers or are influenced by them in some other way."
To answer this question, the researchers introduced a cross-adoption method: pups born to urban mothers were raised by rural mothers, and vice versa. They note that this was the first experiment of this type ever conducted in bats, and also the first 'nature vs. nurture' study for boldness in urban animals.
Liquid Courage?
Dr. Harten: "We found that the pups behaved like their adoptive mothers, not like their biological mothers. This means that boldness is an acquired rather than hereditary trait, passed on in some way from mother to young pup. We hypothesize that the agent may be some substance in the mother's milk." In an additional experiment the researchers discovered that the urban mothers' milk contains a higher level of the hormone cortisol than the milk of rural mothers. It has not yet been ascertained, however, that this is the agent for the inter-generational transfer of boldness.
Prof. Yovel concludes: "The urban environment presents animals with more challenges and a greater variety of situations. It is therefore plausible that bats and other animals living in the city require more boldness and higher learning skills. In our study we focused on bat pups, examining whether bold behavior is the result of genetics, environment, or some combination between the two. In light of our findings, we hypothesize that the trait is passed on to pups in early stages of development, through some component of their mothers' milk." Dr. Harten adds: "We believe that a better understanding of the needs and behaviors of urban animals can help us protect them and adapt urban development to their needs." 
Featured image: "Baby bat with its adoptive mother (Photo: Yuval Barkai)"