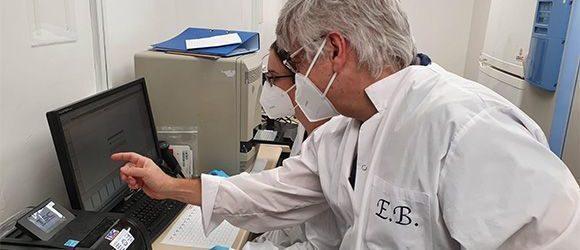 https://www.freunde-tau.org/wp-content/uploads/2-580_0.jpg
Shmunis family gift ramps up the scientific capabilities of the School of Molecular Cell Biology and Biotechnology.
With COVID-19 coronavirus infections surging in Israel and worldwide, TAU biomedical specialists have dropped everything to push forward the fight against the virus. Eleven teams at the School of Molecular Cell Biology and Biotechnology are working to expand the arsenal of vaccines, drugs, testing methods and public health insights aimed at saving lives.
Now, a significant and timely gift from philanthropists Sana and Vlad Shmunis of the San Francisco Bay Area is providing the School with much needed core equipment for the research push.
"We needed emergency scientific funding and, when we turned to the Shmunises, both TAU Governors, they responded immediately and generously," said TAU Vice President Amos Elad. "It's heartwarming to see the concern of our TAU friends take such concrete form and so quickly." The funding has gone toward the purchase of a new ultracentrifuge and a new high capacity autoclave.
"This vital equipment will bolster the ability of our research teams to conduct molecular virology and immunology research much faster than before and with the highest quality," said Prof. Tal Pupko, Head of the School of Molecular Cell Biology and Biotechnology, George S. Wise Faculty of Life Sciences. Among the School's urgent research goals are:
Aiding the authorities focus quarantine efforts, understand if there are "super-spreading" infected individuals, and predict how quickly the disease spreads or wanes.
Screening Israeli COVID-19 survivors for antibodies as a basis for therapies and a vaccine.
Developing novel inhibitors for viral entry and viral activity.
Finding candidate compounds to kick in the body's natural immunity to COVID-19 and ability to overcome infection.
Understanding lung immune responses to viral infection.
Introducing a robotic system for much faster detection of coronavirus presence in tests.
Repurposing known and FDA-approved drugs for prevention and treatment.
Among local and international collaborators in the research are the Israeli Ministry of Health, Israel Biological Institute, IDF, major TAU-affiliated hospitals, and universities in Israel and abroad including Stanford University and University of Washington, Seattle.
Boosting national coronavirus testing
In addition to the research, the School joined forces with TAU's Sackler Faculty of Medicine to convert an existing lab into a coronavirus testing facility. The newly renovated lab will expand public testing and assist Israel's overburdened hospitals. Professors, students, engineers and a construction crew worked 24/7 for three days straight to build the lab and bring it up to the highest safety and research standards. School members are also volunteering to operate it once the test samples come in.
The lab project followed a move by several researchers at the School to help enlist medical students and biomed graduate students as volunteers for collecting and processing samples in hospital laboratories. The nationwide initiative recruited over 2,000 medical and graduate students as volunteers in the national public health operation.