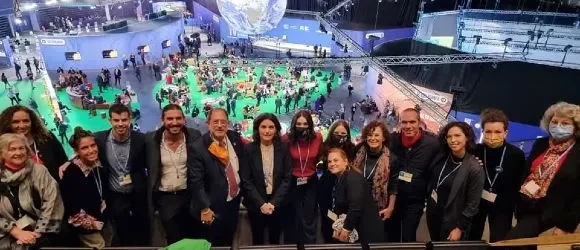 https://www.freunde-tau.org/wp-content/uploads/COP26-Israeli-delegates_Credit-Tsur-Mishal-580x330-1.webp
TAU researchers report on global summit.
As more than 130 heads of state and thousands of delegates converged in Glasgow for the two week-long United Nations global climate summit known as COP26 and Tel Aviv University researchers were there as well, taking part in the international conversation.
This year's summit aimed to set new targets for cutting emissions from burning coal, oil and gas that are heating our planet, as scientists urge nations to make an immediate switch away from fossil fuels to avoid the most catastrophic impacts of climate change. TAU has placed climate change research and action among its top priorities and has launched the Center for Climate Change Action to drive innovative solutions to the climate crisis.
Inside the Climate Summit
TAU researchers attended the summit, exchanging knowledge and gathering observations to apply on campus and throughout Israel. They shared with us their perspectives on what comes next to ensure a cleaner, healthier and safer world for the future:
Prof. Colin Price, Head of the Center for Climate Change Action and the Department of Environmental Studies at TAU, attended COP26 as a member of Israel's 120-person delegation. "Academia has a role in advising the government and addressing uncertainty," said Price, who debriefed Israel's Prime Minister Naftali Bennett on local and global climate matters in the weeks preceding COP26. "It is the role of scholars to provide neutral views based on science that policy-makers can use to swiftly guide decisions. Otherwise, they could be misinformed by people with less expertise."
Israel's Prime Minister Naftali Bennett addresses the plenary at COP26. (Photo: Colin Price)
Price added that the national security risks posed by climate change, as discussed at COP26, are an imminent concern for Israel and that academia can help address this challenge by providing objective data and analysis. "Climate-spurred humanitarian issues in neighboring countries are perhaps one of the biggest external threats to Israel," he stressed. He mentioned droughts in Syria that led to mass migration, civil unrest and resource drainage during the country's ongoing civil war, noting similar cases could cause further instability in the Middle East. For example, rising sea levels could expel millions along Egypt's Nile River, leading to an overwhelming refugee crisis at Israel's door.
He said the topics of discussion covered at COP26 were in line with the Center for Climate Change Action's four main foci this year: regional cooperation on finding solutions, the financial sector's role in addressing climate change, public behaviors that influence our environment, and the public health risks of the growing crisis. Price pointed toward a reported UAE-backed deal between Israel and Jordan for a solar energy and water exchange as a current example of how these forces are taking shape on the ground.
"COP26 was the beginning of the hard work ahead of us all," he concluded.
Prof. Colin Price (right) and PhD student Tsur Mishal at the climate conference in Glasgow.  
Meital Peleg Mizrachi, a PhD student at TAU's Department of Public Policy and social entrepreneur turned government advisor, attended COP26 on behalf of Israeli grassroots climate organizations "Change Direction" and "Life and Environment." Locally recognized as a promising young leader in the field, her activism and research focus on sustainable fashion and environmental justice. She aims to raise awareness of the environmental and social ramifications of the fashion industry—the second-most polluting industry on the planet after oil—and to drive policies for greater ecological integrity in textile production and consumption.
"The unique encounter at COP26 of politicians, environmental activists, green entrepreneurs, researchers and so many different parties involved in global climate efforts allowed for new connections that otherwise would not have happened," she reflected after the summit. "For the first time, I met with other sustainable fashion researchers from around the world. This was particularly beneficial as the field is rarely studied in Israel, and it is difficult to develop a professional network without such opportunities."
TAU PhD student Metial Peleg Mizrahi at the climate conference. (Photo: Courtesy)
Tsur Mishal, a PhD candidate at the Department of Environmental Studies, was also at the convening in Glasgow. As part of a team from TAU's Sagol Center for Neuroscience and the Porter School of the Environment and Earth Sciences, Mishal's research contributes to virtual reality (VR) technology for climate change awareness.
"Meeting with climate media experts and leading scientists at the conference, I was happy to see interest in our VR model, which simulates the future climate in Tel Aviv," he mused. "VR experiences can bring us closer to the lives of the people affected by the climate crisis today to create solidarity and empathy." He explained that the technology further aims to bridge the psychological gaps people face in understanding the gap between the climate scenario today and its implications on the future, before it's too late to reverse damages.
TAU PhD candidate Tsur Mishal tests virtual reality technology at COP26
During a special live broadcast on COP26 hosted from campus, Dr. Ram Fishman, a leading researcher on sustainable development in the Department of Public Policy underlined that, "Israeli climate innovation is key to these climate efforts, many of which are borne from ideas stemming from academia."