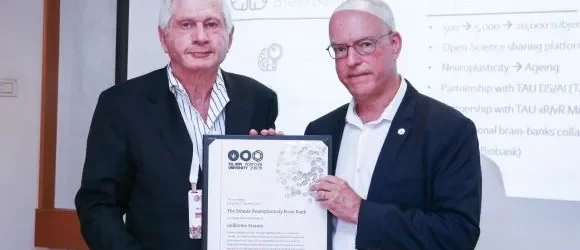 https://www.freunde-tau.org/wp-content/uploads/strauss580.webp
Israel's first MRI brain database launched to prevent brain disease.
In a festive ceremony during the 2022 Board of Governors meeting, TAU inaugurated the Strauss Neuroplasticity Brain Bank—Israel's first MRI brain database, poised to become the largest in the Middle East. Data gathered and analyzed through the Brain Bank will be used for discovering new early signs and risk factors of the disease, thus becoming a crucial national scientific and health resource. 
Inaugurated at TAU's Wise Faculty of Life Sciences, the Brain Bank is the result of a generous and far-sighted contribution of longtime TAU supporters the Strauss family. In 2005, the family pioneered the Strauss Center for Computational Neuroimaging, which has since become a major hub of interdisciplinary research, serving over 20 different research teams from across campus ranging from biomedical research to behavioral change and evolutionary studies. Along with the Center, the family also dedicated the Guillermina Reis de Strauss Periodicals Floor at the Gitter-Smolarz Library and donated student scholarships for many years. 
At the ceremony, TAU President Prof. Ariel Porat said that TAU Governor Guillermo Strauss is continuing the giving legacy initiated in 1990 by his late father Alfredo Frederico Strauss, who was a TAU Governor, and his mother Lotte. "The combination of the Strauss family's support, together with the expertise of TAU scientists will put TAU and Israel at the forefront of brain science and help to eventually prevent brain disease completely," concluded Porat. 
Over the next five years, TAU neuroimaging experts will scan the brains of up to 5,000 healthy volunteers and then analyze the data using unique, patented techniques.
"The Strauss Brain Bank will harness the power of big data and translate the findings gathered at the database into earlier targeted treatments or lifestyle recommendations to prevent brain disease," said Prof. Yaniv Assaf, the Bain Bank's Founding Director and head of TAU's Strauss Center for Computational Neuroimaging.  
"This project will boost Israel's standing and competitiveness in the global scientific arena and usher in a new era of neuroscience worldwide, promoting open 'citizen' science and data-sharing," he added.  
The inauguration ceremony was attended by Dafna Meitar-Nechmad, Chairwoman of the Board of Governors, Guillermo Strauss, Prof. Abdussalam Azem, Dean of the Wise Faculty of Life Sciences, Polly Deutsch, President of the Argentinian Friends of TAU, TAU Governors, faculty, and students.