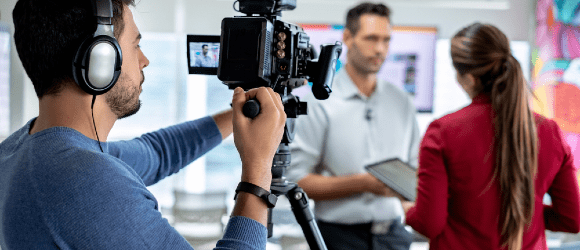 https://www.freunde-tau.org/wp-content/uploads/Dan-Dept-2020-580-330.png
TAU's DAN Department of Communication trains young Israelis in digital literacy, unbiased reporting and media professionalism
By Lindsey Zemler
Since Aubrey and Marla Dan, Toronto, Canada based philanthropists, dedicated the Department in 2017, their support has transformed its academic program into one that offers significant hands-on professional training alongside theoretical studies.
"We are investing in students' futures to help them become leaders in journalism, public relations and research, thus improving the field of communications in Israel, both internally and externally," says Aubrey Dan.
"The Aubrey & Marla Dan Foundation rejuvenated the Department of Communication at a time when the communication field in Israel needed to adapt to global trends," says outgoing Department Head Prof. Shira Dvir-Gvirsman. She worked together with Aubrey and Marla to develop new programs and revamp the curriculum, which in turn brought in new students and faculty, expanded research, and extended international connections. In the last four years, enrolment has doubled.
From left: Executive Director for Canadian Friends of Tel Aviv University (CFTAU) Ontario and Western Canada, Stephen Adler; DAN Foundation's Aubrey and Marla Dan; former TAU President, Joseph Klafter; CFTAU National Chair, Jeff Wagman. Photo: Israel Hadari.
 "Aubrey and Marla have supported us throughout the entire journey, guiding us with their knowledge and vision, but also enabling us to develop independently," Dvir-Gvirsman says. The progress they achieved puts the Department on track to meet a long-term goal: to offer a full degree program. Currently, students can study communication only as a double major with another field to complete their degree.
"Students come to the Department with fire in their hearts to change the world," says Prof. Elad Segev, the newly appointed Department Head, who assumed the role in the fall of 2020. "We help them channel their energy and find their career paths, develop a unique voice, and resist giving in to external commercial and political interests. We examine how communication affects our lives, and work to instill students with values to become more responsible citizens and protect our democracy."
According to Segev, who is carrying on the vision of the Dans and Dvir-Gvirsman, the DAN Department is a top choice for communication studies in Israel. Faculty members continuously seek to stay two steps ahead of current trends in the communication field, strive to maintain excellence in research, and provide students with the most up-to-date tools and technologies used in the digital world. Aubrey Dan believes that boosting Israel's media landscape with the latest technology will augment Israel's ability to evolve as a nation and contribute to the world.
In 2016, the inaugural year, successes included the launch of the flagship year-long workshop about producing media content in the news and marketing industries; the establishment of a department news website; the hosting of two international conferences; and the purchase of new equipment. The following year saw even more growth, with the launch of the Digital Society program, the establishment of BA specializations, the addition of new courses encompassing practical community work, and the introduction of many new workshops taught by leading practitioners in media professions.
Embracing complexity
According to Ph.D. student Noa Hatzir, studying communication in Israel is critical. "Israeli media cover diverse topics, but don't always represent multiple angles and perspectives, which is important when portraying the complexity of life here, and especially when misinformation is spread," Hatzir says. For her master's thesis, Hatzir studied how international news coverage of the Israeli-Palestinian conflict affects Israeli art and culture perceptions.  She also participated in the Department's German-Israeli student exchange program, an annual tradition that allows students to practice looking at Israeli and foreign media through their international peers' eyes.
TAU Dan Department of Communication student Noa Hatzir. 
​Photo: Courtesy of Noa Hatzir.
Both a master's and doctoral fellowship recipient, Hatzir, says the support she receives from the Aubrey & Marla DAN Foundation has enabled her to delve deeper into academia. Another recent MA graduate enrolled in a Ph.D. program at Harvard University. Since the Department's inauguration, the Dan family has created several new scholarship opportunities to be awarded for individual achievement. Over the years, Marla and Aubrey Dan traveled to Israel on several occasions to award the DAN Prize for Best Paper in the field of communication.
​Today, the Department's curriculum continues to reflect quickly-changing industry trends, offering courses and workshops in topics such as data privacy, social marketing, advanced public relations, Adobe Photoshop and video-editing, social and mobile storytelling, and visualization. For example, Dr. Ronit Kampf's course about "digital natives," or young people born into the digital revolution, draws from the virtual world of games, apps and social media platforms. Students learn to appreciate the influence of technology on almost every aspect of life and how to make choices about using technology in different contexts. In the course "Digital Society," students turn off their smartphones for 2-3 days and write about the experience of living without constant access to media.
Tel Aviv, the heart of Israel's media landscape, provides a prime location for students to gain real-world experience. The DAN Department maintains strong ties with industry partners to keep abreast of developments in the field and connect students to internships and jobs. In the spring semester of 2020, one-third of internship program students received job offers from the companies where they interned, says Kampf.
The Department strives to effect social change through research and course projects. In the course "Social Marketing: How to Harness a Marketing Approach for the Good of the Public," students create marketing material for organizations. This past year included programs to encourage women to be active in politics and a summer camp for religious and non-religious children. In 2017, Dr. Nurit Guttman, with the Israeli Ministry of Health's support, launched a project to help Ethiopian immigrants gain better access to health services by setting up a website in their native language, Amharic.
During the spring semester of 2020, the Department pivoted within days to adjust to the new realities of the COVID-19 pandemic, transferring classes online and hosting a virtual colloquium series. Students continue to study online through the virtual classroom, and the Department remains committed toward their goal of expansion while adapting to the new reality.  
According to Segev, communication studies have increased in popularity due to a growing understanding of digital media's importance in daily life and digital literacy's critical role in bettering society. Aubrey Dan and Segev agree that training young media professionals in critical thinking is of the utmost importance, especially with the prevalence of fake news.
To this end, the Dan Family is investing in the TAU Department, says Segev. "Marla and Aubrey understand the importance of communication for society and for Israel." Their daughter, Alyse Dan, is the Executive Director of the Aubrey & Marla Dan Foundation, and visited the Department with her parents in 2019, meeting students and faculty.
Marla Dan, a volunteer leader and philanthropist, was expected to receive an Honorary Doctorate from TAU in 2020. The ceremony has been rescheduled to 2021 due to COVID-19.