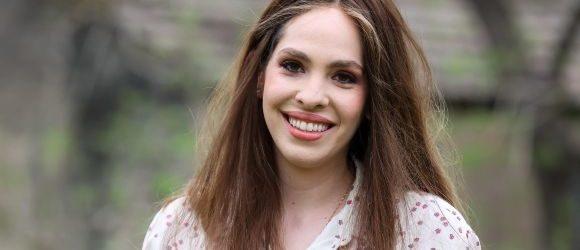 https://www.freunde-tau.org/wp-content/uploads/Batya-Sonnenfeld_Courtes.-580y.jpeg
TAU medical student Batya Sonnenfeld follows in the footsteps of late Prof. Dina Lev, as the inaugural recipient of memorial scholarship.
Since high school, TAU medical student Batya Sonnenfeld knew she wanted to pursue a medical career. Having grown up in the Chabad ultra-Orthodox education system in the southern Israeli city of Kiryat Malachi, though, her choices seemed limited.  
"I felt there weren't many options when I finished high school," she says. While most ultra-Orthodox institutions do not include a curriculum of core subjects such as math and science needed for academic studies, the Chabad system does and Batya excelled at them. Still, at that point, she was only comfortable with gender-segregated institutions.  
A short time later, she enrolled in an undergraduate optometry program at Hadassah Medical Center in Jerusalem for ultra-Orthodox women. "Before I even finished my optometry studies, I knew I wanted to learn more about medicine."    
However, she wasn't sure she would be able to realize her medical aspirations as academia's top medical programs seemed extremely challenging to get into and unfamiliar from her upbringing in the ultra-Orthodox education system. 
She followed her heart and forged a journey that eventually led her to Tel Aviv University. Today, she is a second-year medical student and the inaugural recipient of the Dina Lev Scholarship, named for late TAU professor and alumna Prof. Dina Lev, who was a leading breast cancer surgeon and researcher.  
Relentless Pursuit  
Sonnenfeld, the youngest of 12 children, married her husband shortly after earning her optometry degree. "At that point in my life, I felt more stable and mature," she recalls.  
It was then that she began exploring top university medical programs and came across TAU. The four-year accelerated MD track at one of Israel's top-ranked medical schools appealed to her. She thought it might be a long shot considering the extremely competitive nature of Israeli medical schools, even among students who aren't from the ultra-Orthodox education system and come with all the advantages and preparations. Determined, Sonnenfeld decided to apply. 
"Then I became pregnant and thought that was the end of my medical dreams," she says.  
With encouragement from her husband and parents, she completed the prerequisite courses she needed for enrollment and stayed in the running.  
"The day I was accepted to TAU was one of the happiest days of my life," she beams. "I still have my acceptance letter hanging on my refrigerator. Every time I walk by, it reminds me of what I'm capable of." 
By the time she began her studies, Sonnenfeld had her first child and soon thereafter she gave birth to her second son. 
"When I was accepted to TAU, my husband was serving in the IDF with an 800-shekel (approximately $240) salary per month," she said. Therefore, she continued working to provide for her family and pay for tuition until she received the scholarship. 
Perpetuating a Legacy 
"The Dina Lev Scholarship gave me space to really focus on my studies, otherwise it would have been extremely difficult to raise children alongside demanding studies and a full-time job," said Sonnenfeld. She had applied for a scholarship through the Office of the Dean of Students. 
Moreover, Sonnenfeld was astonished when she learned she had received the scholarship in Dina Lev's name.  
"By chance, I had read an article about her just a few days before and was so fascinated and inspired by her," she explains. Sonnenfeld says she was extremely moved when she discovered a Facebook page dedicated to Lev. There, her former patients write touching testimonials about her impact as a compassionate and skilled doctor. 
"Each one of them felt like they were her only patient," said Sonnenfeld. "As a Chabad member and religious Jew, I believe everything happens for a reason; there's no coincidence. I feel I have a special duty to honor her legacy." 
Lev was a professor at TAU's Sackler Faculty of Medicine and the Director of the Breast Health Center at Assuta Hospital in Ashdod at the time of her untimely death in 2020 at age 55. She graduated from TAU's medical program before launching a career that led her to become a top surgeon in Israel. Her father, Reuben Ben-Arie, who lives in US, established the scholarship fund through the American Friends of Tel Aviv University (AFTAU) to honor her memory. He explains that he chose TAU because it was his daughter's intellectual home. 
"Dina would want a woman to follow in her footsteps," he says. "It's not easy to have a family and study medicine. To follow that path shows Batya has a passion for it." 
Sonnenfeld has yet to choose a medical specialty, but she is interested in gynecology and is eager to begin clinical rotations next year at TAU-affiliated hospitals.   
"My hope for the future is to be the type of doctor that Prof. Dina Lev was, who touches the lives of patients with compassion even during some of the most difficult times in their lives," she says.   
Win-Win Situation 
With two young kids, Sonnenfeld acknowledges that it was challenging to begin her degree at TAU. However, support from the medical faculty helped her ease into the academic rigors in a way that complemented her personal needs.  
"I got a parking spot, extra time for tests, and a very nice nursing room at the medical faculty that I could use," she explains. Furthermore, she is particularly grateful for the tight-knit social support and hospital shadowing through the course Medical Education and Communication ("Chibuki" in Hebrew) led by Dr. Mirit Lahav. 
"TAU gave me a true chance to follow my dream," she enthuses. 
Sonnenfeld sees considerable benefits to the growing access of academia for the ultra-Orthodox community. She is among the over 150 students in Trailblazers: The Program for Integrating the Ultra-Orthodox into Tel Aviv University. "Co-ed studying was a concern going into my studies as I had never experienced it before and thought I might be stereotyped, but I felt very accepted," she says. "There is consideration and respect for my beliefs." 
Established in 2016 with two students, Trailblazers combines academic studies with educational, psychological, and social support services to ease student entry into secular academia. 
"I think it's a win-win situation," she says. "There are tons of talented potential students, many of whom are women, and a lot of will in the community to go out and learn." 
featured image: TAU medical student Batya Sonnenfeld