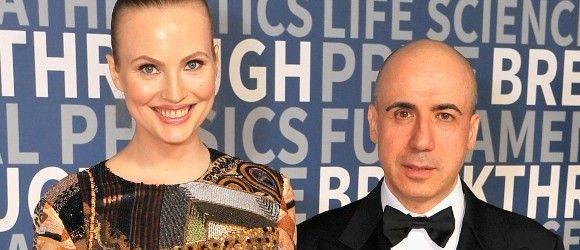 https://www.freunde-tau.org/wp-content/uploads/YuriJuliaMilner_580_330.jpg
Change-maker Yuri Milner talks to the "TAU Review" about why he supports TAU and Israel
​By Ruti Ziv
A theoretical physicist turned tech investor and philanthropist, Russian-Israeli Yuri Milner was a prescient early backer of Facebook and Twitter, and later of other successful companies. In the past decade, he and his wife, Julia, have focused on diverse philanthropic initiatives, among them the Breakthrough Prize Foundation, which supports the Breakthrough Prizes – the "Oscars of Science" – and the "70 for 70 Doctoral Fellowship Initiative" allocated to TAU and other Israeli universities on the occasion of Israel's 70th birthday in 2018. The Milners also contributed major emergency funding to TAU and other Israeli institutions at the onset of the COVID-19 crisis.
The TAU Review spoke to Mr. Milner about his connection with TAU and Israel, his lifelong interest in science and technology, and his big idea – that scientists should be treated like celebrities.
What is your first science-related memory?
My parents named me after cosmonaut Yuri Gagarin, who became the first man to be sent into space that same year. My first real memory of science is a book I read as a child about the possibility of other civilizations in our universe. Decades later, I co-launched an initiative called Breakthrough Listen, which addresses the existential question "Are we alone in the universe?"
If a message from aliens reached Earth, how would you respond?
I think the only currency and the only sensible exchange between two civilizations that are separated by thousands of light years or more must involve asking something that is really essential. So I would answer them with a question, "What do you know about the origins of our universe?" and compare our answers to see if they're more advanced than us.
You have devoted a lot of time and money to establishing the Breakthrough Prize and other Breakthrough initiatives. Why?
Science is not appreciated enough. You would think if this is our main currency, we'd invest more in it. But we don't. Essentially everything that we are thankful for from our predecessors is based on science and technology, for example improved life expectancy, standards of living and economic progress.
Do you view TAU as a breakthrough university?
TAU is known around the world, not just in Israel. I think it is definitely one of the most preeminent global institutions, and I think that the contributions of TAU are numerous and distinguished. Although we work with other scientific partners in Israel, we selected TAU as a prestigious partner and an administrator of some of our activities.
When the coronavirus crisis hit, we committed major funding toward COVID-19 research at TAU labs, alongside contributions to Magen David Adom and Ichilov Hospital [Tel Aviv Sourasky Medical Center], as well as a shipment of 1 million vitally-needed face masks for those essential workers who continued to go to work every day during the pandemic. In this case, we asked TAU to advise us on what would be the proper way to contribute. And their advice was very, very helpful to enable us to very quickly – and speed was critical in this situation – identify the most efficient ways to support Israel in a difficult situation.
You marked Israel's 70th anniversary with a focus on science – you established a major doctoral fellowship fund and produced the  "70 & 70" list recognizing 70 of Israel's greatest scientists in cooperation with the Washington Post and Ha'aretz. What was your goal in doing so?
Israel is already famous for its science and technology, but I thought that its international reputation could be further enhanced by these initiatives. A relatively small nation like Israel with limited natural resources really has only one path – applying its intellectual potential to the problems of the world.
We must also recognize that science is global and universal. It is one of the few fabrics that connects the world and brings us all together. Especially in the world now, when people are feeling separated from each other due to the COVID-19 crisis, I think science is one of those elements that brings us all together.
Photo (left): The Milners at a TAU event in honor of the 70 for 70 Initiative. Credit: Yehonatan Zur.
What lies behind your idea that scientists should be compensated like celebrities?
In today's world, recognition is based on either celebrity status or financial wealth. Few people are celebrated for their intellectual achievements. What the Breakthrough Prize is trying to achieve is to bring about a more balanced world whereby intellectual achievement will be celebrated at least on par with other achievements, and where scientists will receive the recognition they deserve. We thought that celebrating the most brilliant minds could maybe inspire kids interested in science to pursue an academic career.
What advice would you give to young Israeli scientists who dream of changing the world?
Although I tried for a number of years to do this myself, I wasn't too successful. My advice would be contrary to my own experience – try to focus on fundamental science. If you put your name on a building, that building will not survive over hundreds of years. But if you make a scientific discovery, this is something that cannot ever be undone. In a thousand years from now, Einstein will still be remembered for his theory of general relativity, while many other great men will be forgotten. So if you really want to leave a lasting legacy for our civilization, the only sure way is through fundamental science and making discoveries.​
I envy people who choose basic science as their occupation. Not being able to make a contribution myself, I am trying to focus our foundation on supporting those who can.
Tell us about your connection to Israel and making Aliyah.
I became an Israeli citizen over 20 years ago. This was really an important calling for me because, growing up in the Soviet Union, I had limited ability to connect with my heritage and ancestors in a meaningful way. As soon as it was possible, I decided to become an Israeli citizen and, to the extent possible, to contribute to the State of Israel.
Featured image: Yuri and Julia Milner. Courtesy of Yuri and Julia Milner.