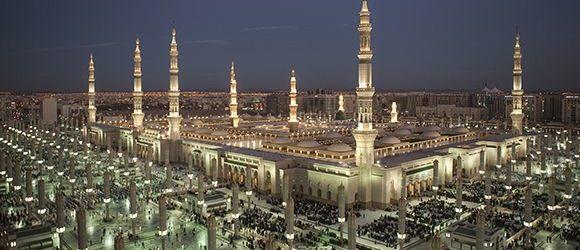 https://www.freunde-tau.org/wp-content/uploads/saudi-arabia-580_1.jpg
A Historic Moment for Tel Aviv University's "Kesher" Academic Journal
The latest issue of "Kesher", an academic journal published by the Shalom Rosenfeld Institute for Research of Jewish Media and Communication at Tel Aviv University, opens with a unique paper, which is unprecedented in an academic journal. 
In his first article in Hebrew, Prof. Mohammed Ibrahim Alghbban, head of NELC and Hebrew Studies at the Department of Modern Languages and Translation, at King Saud University in Riyadh, claims that the prophet Muhammad had good relations with Jews and only clashed with them on political grounds, not on religious ones. The article is called "Contribution to Prophet Muhammad's Image Improvement in the Eyes of the Israeli Public: Muhammad's Alliances and Mail Exchanges with Jews from the Arabian Peninsula." The paper was published among increasing calls in Saudi Arabia and the Arab League to use inter-religious understanding for cooperation with Jews and Israel to achieve peace.
The editor of the academic journal "Kesher", Prof. Gideon Kouts, met Prof. Alghbban at academic Hebrew Studies conferences as well as on his visit to Riyadh in 2015. 
According to Prof. Alghbban, he decided to write the article in Hebrew in order to improve the image of the Prophet Muhammad in the eyes of the Israeli public. "Erroneous assumptions about the origins of Islam, proposed by Oriental Studies researchers in the previous century – some of which were written in Hebrew – led to a distorted understanding of manuscripts, wrong methodology, and negative influences on Hebrew speaking Middle Eastern Studies researchers," writes Prof. Alghbban in the introduction to his article. "Accusing Islam and the Prophet Muhammad of hate speech and racism against Jewish tribes in Hejaz is erroneous. Muhammad treated equally all social groups in Al Madinah and in other places under his control, regardless of race and religion. The misrepresentations in the research are due to the fact that his letters were never translated into Hebrew," to right this wrong Prof. Alghbban translated them in his article.
King Saud University offers an undergraduate Hebrew Studies program. Prof. Alghbban, head of NELC and Hebrew Studies at the university, incorporates contemporary Israeli literature in the curriculum. The program is taught only to male students, and in its course program one can find works by Israeli writers such as Yosef Haim Brenner, Shmuel Yosef Agnon, and Etgar Keret. Prof. Alghbban says that the Jewish public's misunderstanding of Prophet Muhammad's thoughts is rooted in faulty or biased translations into Hebrew, or even lack thereof, of Prophet Muhammad's letters to Jewish tribes from the Arabian Peninsula and the written alliances he had with them.
Prof. Raanan Rein, head of Shalom Rosenfeld Institute, stresses that this article is mainly important for the unprecedented choice of a Saudi researcher to publish his article in an Israeli academic journal, in order to bring the two nations closer. "I hope that this academic cooperation is another step towards economic and political cooperation.