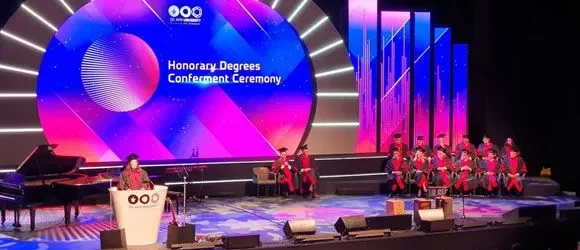 https://www.freunde-tau.org/wp-content/uploads/hon_doc_ceremony_2022.webp
This year's event, May 14—21, provides a special cause for celebration marking the end of our $1 billion Global Campaign.
This week, Tel Aviv University is hosting its annual Board of Governors Meeting, with over 500 friends and supporters arriving from all over the world. The program is packed with a variety of exciting events: participants will be visiting some of the most innovative labs in the world, attending prize ceremonies, inaugurations, symposia and even gala events! And this year, we're celebrating big time – not only Israel's 75th anniversary, but also the smashing success – and visible, campus-wide impact – of the $1 billion TAU Global Campaign.
Here are a few highlights from the program, with a focus on the impact of TAU's big ideas on the success of Israel and beyond: 
Honorary Degrees
On Thursday, TAU will bestow its highest honour, the honorary Doctor of Philosophy degree to nine distinguished individuals making an exceptionally positive impact on the world. 
The degrees will be awarded to: Prof. Antoine Compagnon, France; Prof. Barbara Engelking, Poland; Mr. Tamir Gilat, Israel; Mr. Morris Kahn, Israel; Mr. Attalla Mansour, Israel; Prof. Nicholas A. Peppas, USA; Prof. Pavel A. Pevzner, USA; Ms. Sandra & Mr. Vlad Shmunis, USA and Ms. Olga Tokarczuk, Poland (Writer, activist and public intellectual; Nobel Prize laureate). Honorary Fellowship in Israel will be awarded to: Mr Tharman Shanmugaratnam, Singapore. 
Tune in to our live broadcast to see the ceremony on TAU's Facebook page or the University's official LinkedIn page on Thursday, May 18 at 8:30 p.m. 
This year's honorary degree recipients
Kicking Off New Initiatives
The participants will get the rare opportunity to visit some of the most innovative laboratories in the world, and witness cutting-edge sicence in action; hear inspiring stories of students from all sectors of Israel society who benefit from TAU's proactive strategy to boost equality on campus; learn about TAU's uniquely cross-disciplinary research culture, and hear teams describe their fascinating approaches to research challenges. 
They will also attend the inauguration of various programs, including: 
Dan Launchpad for Startups – dubbed as "the missing link in TAU's current ecosystem" by Prof. Moshe Zviran, Head of the Dan Launchpad and former Dean of the Coller School of Management. 
Colton Center for Autoimmunity – Israel's first multidisciplinary center for the study of autoimmune diseases – chronic conditions involving an abnormal response of the immune system within body tissues. The Center will collaborate with Israel's medical centers and health services including HMO's and Hospitals as well as selected scientists from other academic institutions to enable big data analytics of medical information and biological samples from patients with autoimmune diseases and promote understanding of the causes of morbidity and recurrent flareups and possible early diagnostics and treatments.
Irwin Cotler Institute for Democracy, Human Rights and Justice –  the Institute, honoring the Hon. Irwin Cotler – 2018 TAU Honorary Doctor and TAU Governor, will be devoted to combating antisemitism, racism and Holocaust denial; promoting human rights; and advancing understanding of Israel in the global arena. These important topics are at the center of Prof. Cotler's life work.
Prof. Irwin Cotler with Cotler Fellowship students on TAU campus
The Human Embrace: Cohn Program for Israeli-Arab Inclusion in the Humanities (at The Lester and Sally Entin Faculty of Humanities) – a unique program aimed at bringing greater numbers of Israeli-Arabs into the academic fold, offering them the tools and skills to successfully complete their degrees, and further incorporating equality, social justice and diversity into the culture and curriculum of the Entin Faculty of Humanities.
The Institute for Integrative Psychedelics Research – The investigation of how psychedelics alter the mind must take into consideration many other aspects of life that affect consciousness, emotions, social and motivation behavior. Thus, the future of psychedelics research lies in the integration of diverse disciplines that can illuminate blind spots and create a stronger and more cohesive body of scientific knowledge. 
Participants from the TAU's Board of Governors Meeting in 2022 visit TAU's innovative laboratories. 
Kadar Family Award for Outstanding Research
The Kadar Family Award for Outstanding Research at Tel Aviv University celebrates pioneering scientists and scholars who have reached the highest levels of excellence in both research and teaching. For the past eight years, the Award has been granted annually to four TAU researchers, two senior and two junior faculty members, from across the entire spectrum of faculties and disciplines on the TAU campus.
2023 Dan David Prize Award Ceremony
Dan David Prize, the largest history prize in the world, will be awarded this year's winners – nine emerging scholars and practitioners, whose work illuminates the past in bold and creative ways. Each of the winners – who work in Kenya, Ireland, Denmark, Israel, Canada and the United States – will receive $300,000 (USD) in recognition of their achievements and to support their future endeavors.
For regular Board Of Governors Meeting updates and photos, follow us on Facebook, Twitter and LinkedIn, hashtag #TAUbog23.