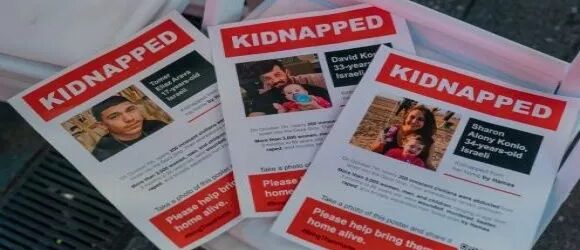 https://www.freunde-tau.org/wp-content/uploads/shutterstock_2377492665_0.jpg
"This is a clear crime against humanity, and one that we must condemn and fight."
240 hostages, including babies, children, and elderly civilians are being held by Hamas since October 7th, 2023. Many were snatched from their beds or captured in the midst of a pastoral music festival during the barbaric attack by Hamas terrorist, where over 1300 Israelis were murdered. These people are still held hostage, in clear violation of  international law. No one knows where they are, or what their condition is. Hamas is preventing the Red Cross from visiting them.
These 240 hostages have rights. First and foremost, they have the right to live; and with each day that passes, the threat to their lives increases. Imagine being held captive by a terrorist organization, unable to communicate with your family, constantly fearing for your life. No person can, and no person should: this horror is beyond the limits of human imagination. And yet this is the day-to-day reality of these 240 people. Think about their families, torn between hope and despair, having no information about their loved ones.  We must help them.
Irrespective of one's opinion about the Israeli-Palestinian conflict, the world cannot remain silent in the face of pure evil. This is not, by any means, 'legitimate resistance'. This is a clear crime against humanity, and one that we must condemn and fight. We ask that you don't stay silent. Demand their immediate release. Speak for the hostages, since they are deprived of the right to speak to the world. Be their voice. Now.