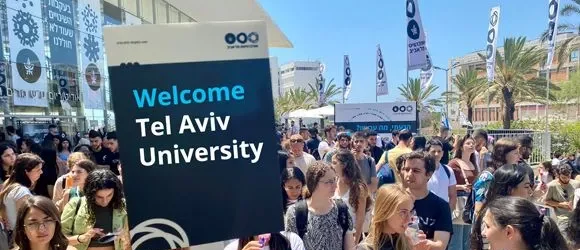 https://www.freunde-tau.org/wp-content/uploads/open-day-may-22-eng-580_0.webp
Participants met with professors and students, learned about academic programs and participated in guided tours on campus.
After two consecutive years on Zoom, it was such a joy to finally be able to open our campus for visitors to TAU Open Day today. Over 6000 prospective students arrived throughout the day to learn about the various study programs, admission requirements and application processes.
This year, we added tailor made, guided tours to the program, enabling the participants to chat with our students, academic and administrative staff, visiting faculty buildings and labs.
For instance, in The Buchmann Faculty of Law, participants met with law students who answered their burning questions, such as how to combine studies and work, whether or not law studies could be combined with a second discipline, about the social life at the faculty, and more. In The George S. Wise Faculty of Life Sciences, the prospective students visited research labs and chatted with the researchers. In The Iby and Aladar Flaischman Faculty of Engineering, they watched experiments in mechanical and materials engineering, whilst in the lobby of the Coller School of Management participants were treated to short TED-styled talks by faculty members on the studies of accounting and management. 
English speaking visitors met with representatives from TAU International, who offered information on English-language Bachelor's degrees. Student exchange representatives were also available to present the extensive selection of study abroad options that TAU students can enjoy during their studies.
"Although we have all gotten quite used to Zoom and other online meetings, there's really no substitute for in-person gatherings of this kind," says Sharon Ariel, Marketing Director at Tel Aviv University. "It was important for us to allow prospective students to get max benefit from their campus experience today. Organized tours and meetings across campus gave them the opportunity to learn about the study programs from current students, see labs up-close and observe as leading researchers in their fields conduct experiments, listen to lectures by faculty and administrative staff about different study options and tracks, as well as entering lecture halls for the first time and walk around our beautiful green campus. On our Open Day we gave those who consider studying at TAU the opportunity to feel like a student for one day."
Didn't make it to Open Day?
All information on admission requirements for the various programs can be found on our registration website (in Hebrew) or on the TAU International website (in English).