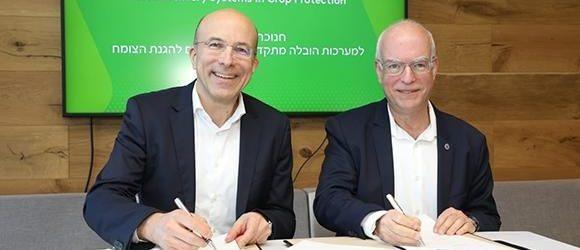 https://www.freunde-tau.org/wp-content/uploads/adama-580_0.jpg
A new center for plant sciences, in partnership with Adama, will train the next generation of experts in delivery and formulation, key aspects of modern agriculture
Tel Aviv University and Adama, one of the leading companies in plant protection, have launched a unique research and teaching program in the field of delivery (the stage of transporting and linking the active substance to its target site in weeds or agents harmful to plants) and formulation, which is a growth and innovation engine in the field of food, agriculture and plant protection. The innovative curriculum will be taught at the "Adama Center for Advanced Transportation Systems for Plant Protection Materials", at the School of Chemistry, in collaboration with the School of Plant Sciences and Food Security and the Sackler Faculty of Medicine at Tel Aviv University. As part of the program, researchers and students will be acquiring advanced degrees in Israel and abroad.
Adama offers farmers effective solutions and services for dealing with weeds, pests and lesions and improving their crops. About a year ago, the company inaugurated an innovative research and development center in Neot Hovav, which houses more than 100 researchers. Dozens of collaborations are being conducted at the center with researchers and academics specializing in chemistry, agronomy, agriculture and other fields. Dr. Elad Shabtai, VP of Innovation, Research, Development and Licensing at Adama, explains that until now, delivery and formulation expertise was usually acquired only through working in the industry, and one couldn't study the field or gain experience through any academic setting in the world. This has created a growing shortage of experts in the field.
The unique curriculum developed by Tel Aviv University and the Adama research and development team will integrate the world of industry and academia, expose students to the field of delivery and formulation, and train the next generation of experts. In addition, Adama will invest in a world-class research lab, set up at the School of Chemistry, where studies and experiments will be conducted. Adama will provide scholarships to approximately 25 students from a variety of fields such as chemistry, materials engineering, plant sciences and more. Students will gain access to advanced soil labs to conduct experiments and undergo practical training by researchers from the company.
Significant connection between academia and industry
At the signing ceremony, held at the company's research and development center in Neot Hovav, Dr. Chen Lichtenstein, president and CEO of Adama said: "Adama understands that its success in the global, competitive market rests on research and development capabilities as a vehicle for strategic growth. The international center for delivery and formulation that we're launching at Tel Aviv University will enable us to train the best researchers in the field, and prepare them for entry into the agrochemical industry, so they can develop products that meet the world's agricultural challenges. "
Prof. Ariel Porat, President of Tel Aviv University, said at the ceremony: "Tel Aviv University attaches great importance to the development of applied research, along with baseline research. To this end, it collaborates with various industries, in various fields. The cooperation with Adama, which we are very pleased about, will contribute much to the advancement of research and teaching in the fields of chemistry, food, agriculture and plant protection, and will benefit the State of Israel."
Dr. Elad Shabtai, VP of Innovation, Research, Development and Licensing, emphasized: "The connection and ties between academia and industry are significant and central in the context of research and development. We must work to train and strengthen researchers and scientists in the field, starting with the academic stage, to provide a basis for inventions and development."
Prof. Roey Amir, from the School of Chemistry and head of the Adama Center for Advanced Delivery Systems for Plant Protection Materials at Tel Aviv University, said: "In recent years there has been a demand for smart agriculture development, which will minimize the amount of plant protection materials while improving their operation through advanced delivery systems, similarly to what's happening in biomedical research. Opening the center will allow us to work together with Adama to train the future generation of scientists who will lead the field in Israel and around the world."