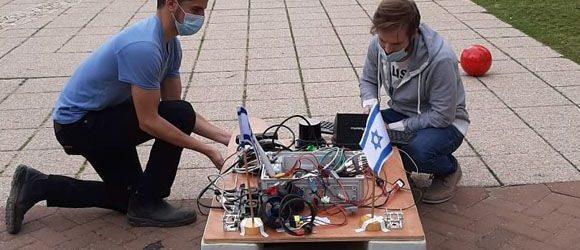 https://www.freunde-tau.org/wp-content/uploads/2studentsboat580.jpg
The boat will enter the upcoming "RoboBoat" competition.
A team of 15 TAU students from the School of Electrical Engineering and the School of Mechanical Engineering at The Iby and Aladar Fleischman Faculty of Engineering and from The Blavatnik School of Computer Science at Raymond & Beverly Sackler Faculty of Exact Sciences are preparing to compete in the annual RoboBoat competition (June 21-27), taking place in Daytona Beach, Florida.
The students have planned assembled, experimented and created an autonomous sailing boat, and SAIL-IL will be the first Israeli autonomous cruise to sail from Tel Aviv University.
Original partners of the project, Shoval Ben Shoshan and Nadav Sholav, made use of their experience from their military service when executing this exciting, and no doubt also challenging, project. Nadav got interested in the project due to his background in the Navy and explains that "The faculty encourages projects across different schools, allowing for inter-disciplinary cooperation, as well as engaging with the world outside for outside inspiration. The competition offers an opportunity to combine skills from different engineering fields to tackle a real-world challenge".
Shoval adds that "Universities from around the world are participating in the RoboBoat competition. Our vision is to be the first team from TAU – but not the last – to compete. In fact, we are already looking for new students who would like to join and lead next year's project", says Shoval.
SAIL-IL Team members
The Event Details
We will also be sharing highlights from the event on our Instagram profile – follow the hashtag #tau_sail.
The schedule for the event:
11:00 – 11:30 – Gathering
11:30 – 12:30 – First sea trial
12:30 – 13:00 – Preparations for second sea trial
13:00-14:00 – Second sea trial
Featured image: SAIL-IL Team members preparing the boat before its sea trial