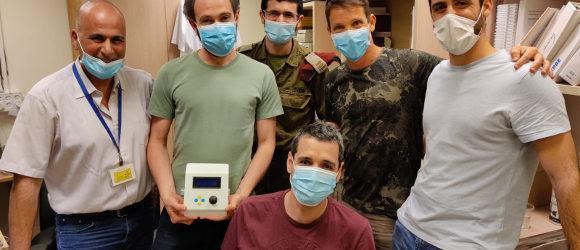 https://www.freunde-tau.org/wp-content/uploads/580330מכונת-הנשמה1.jpg
TAU Student, COVID-19 Sprint Invent Disposable Ventilators to Help Treat Coronavirus Patients
Israel's Health Ministry has approved the use of a prototype in a pilot study
Together with COVID-19 Sprint, a technology task force led by Assuta Ashdod Hospital, Rafael Advanced Technology and Weizmann Institute of Science, a doctoral student at Tel Aviv University's Iby and Aladar Fleischman Faculty of Engineering is helping to develop an inexpensive disposable ventilator specifically tailored to treat COVID-19 patients.
It's called MANSHEMA, is cheap, suitable for mass production and easy to use, and Israel's Health Ministry recently approved the use of its prototype in a pilot study.
"Around the world, hospitals overwhelmed with COVID-19 patients are experiencing a shortage of ventilators," explains Stav Bar-Sheshet, a doctoral student of engineering engaged in research for the project. "This is a serious crisis, which requires creative and revolutionary thinking, thinking that will result in the efficient, fast and cheap solutions."
The idea, he says, is to produce a cheap, disposable ventilator from existing parts that are widely available. While MANSHEMA is disposable, it can work nonstop for three months at a stretch.
Most critically for the novel coronavirus, the cheaply produced ventilator is tossed out after each use, drastically reducing the risk of infection by medical staff and hospital patients.
"Coronary disease is highly contagious," adds Bar-Sheshet. "The unique idea of the disposable respirator is that after being used on one patient, it will be destroyed and a new ventilator applied to a subsequent patient."
MANSHEMA is a flow driven, electronically controlled system that allows the patient to determine his or her own respiratory rate and to alert of malfunctions and respiratory failures. The system assists the patient to breath by providing what's called Bi-level Positive Pressure, meaning the system maintains a positive pressure at all times to assist in cases of respiratory distress. Both exhalation and inhalation pressures can be adjusted by both the patient and medical staff. The system is noninvasive and particularly suited to low to moderate risk patients.
"An electrically-controlled-mechanical-valve opens and closes the exhaust to allow real-time inhale and exhale," says Bar-Sheshet. "If the patient stops breathing, alerts are triggered and the system automatically enters a mandatory respiration mode."
In a spirit of friendly competition, COVID-19 Sprint has set up two to three teams for each challenge. Each team contains a core group of builders (product manager, engineers, solution architects), with a clinical advisory group advising each challenge. Volunteers with experience as engineers, product managers, clinicians, care managers, project managers are welcome to join existing teams or create new teams.
"To date, the team, with the support of the Health Ministry, have a few prototypes tested by medical staff at Assuta Ashdod Hospital," concludes Bar-Sheshet. "The Health Ministry helped us meet Helsinki requirements that will now allow us to proceed to a clinical trial on patients with respiratory problems and on COVID-19 patients."