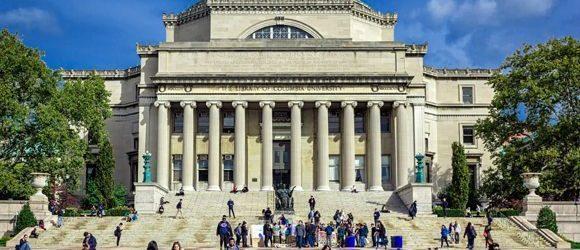 https://www.freunde-tau.org/wp-content/uploads/columbia580.jpg
For the first time, an Israeli university has a joint undergraduate program with an Ivy League university offering world-class education on two continents
Tel Aviv University, Israel's largest and most comprehensive higher education institution, today announced that it will launch the Dual Degree Program with Columbia University – a first-of-its-kind partnership at TAU that will provide undergraduate students from around the world with an opportunity to pursue an exceptional liberal arts education and earn two degrees.
Transcending traditional study abroad opportunities, the program will enable students to simultaneously earn two bachelor's degrees—one from each institution—upon completion of the four-year program. The multidisciplinary educational experience will offer students the best of both universities while empowering them to succeed in an increasingly complex and fast-changing world.
"This is the first time that an Israeli university is collaborating with an elite American institution to offer a dual undergraduate program of this kind," said Professor Raanan Rein, Vice President of Tel Aviv University.
Best of both worlds
The program will begin with students spending their first two years at Tel Aviv University, studying within one of six academic tracks in the International  Program in the Liberal Arts at Lester and Sally Entin Faculty of Humanities. For the final two years, they will study at Columbia University, fulfilling its core curriculum and completing their majors. Dedicated Dual Degree Program advisors from both TAU and Columbia will be assigned to students as soon as they enroll, providing guidance and support on academics and student life.
"I am especially excited about our partnership with Tel Aviv University, which is consistently ranked among the best academic institutions worldwide," said Professor Lisa Rosen-Metsch, Dean, Columbia University School of General Studies. "By giving students the opportunity to study full time at a top-tier university in the Middle East before bringing them to study in the Ivy League, they will not only benefit from being immersed in a wide range of cultures and experiences, but will also make an immense contribution to the Columbia undergraduate classroom."
TAU's B.A. in Liberal Arts provides a broad education in the humanities while allowing students to specialize in their areas of interest by choosing from six academic tracks, including Digital Culture and Communication, Jewish and Israel Studies, Middle Eastern Studies, Psychology, Philosophy, and Literature. The Dual Degree Program will welcome its inaugural class in the fall of 2020.