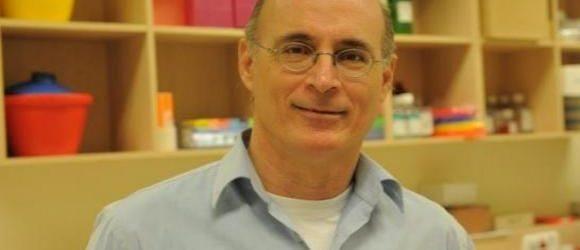 https://www.freunde-tau.org/wp-content/uploads/prof-gidi-rechavi_3.jpeg
Prof. Gidi Rechavi, of TAU's Sackler Faculty of Medicine, has won Israel's highest honor for his academic and clinical work
Prof. Gidi Rechavi has spent most of his professional life at Tel Aviv University, either studying, teaching, or conducting research. Prof. Rechavi's study of the molecular basis of childhood cancer and mobile genetic elements in the field of RNA modifications have won him numerous awards, and have been the subject of over 500 academic articles.
Now, he's been awarded the highest honor the State of Israel can bestow on a researcher: the Israel Prize.
In a pre-recorded and ceremony, without an audience, which marked the end of Israel's 72nd Independence Day, Prof. Rechavi received the prestigious award, alongside laureates from other fields.
"When you think of an exemplary doctor-researcher in Israel, the first name that comes to mind is Gidi Rechavi's," according to the panel of judges who awarded the Prize. "His work as an outstandingly dedicated physician did not interfere with, or perhaps even helped him, develop a wonderful and exceptional scientific career, in its achievements and scope."
Raising your own partners
Prof. Rechavi, who conducts his clinical and research work at the medical centers Tel Hashomer and Sheba, has continued to teach students at Tel Aviv University throughout his career.
"For me, teaching the new generation is very important," he says. "In fact, my main partner in my research right now is Dr. Dan Dominissini, who was one of my students at the Sackler Faculty of Medicine. And there are many more examples like him, of TAU students I taught who then became researchers and collaborators."
Prof. Rechavi's oldest son, Dr. Oded Rechavi, is also a professor at TAU, at the George S. Wise Faculty of Life Sciences. Is there any connection between their academic interests? "We work in different fields," Prof. Rechavi says. "But we both focus on the RNA molecule in our research, so that's similar."
Perhaps the secret to Prof. Rechavi's success is that his two other children are also studying medicine at TAU, and his wife is also a doctor, so all the members of his family can help each other develop ideas? "The thing my family is the biggest expert on is actually American basketball," Prof. Rechavi jokes. "We even wake up in the middle of the night to watch the games."