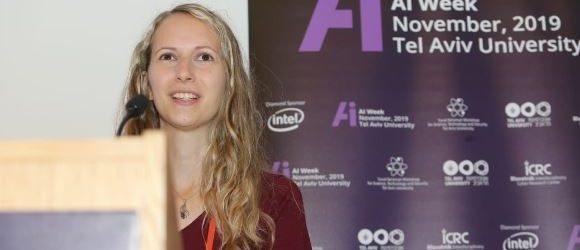 https://www.freunde-tau.org/wp-content/uploads/Vered-Zilberstein.580X330.jpg
TAU Computer Science master's student Vered Zilberstein applies machine learning to identify schizophrenics
Tel Aviv University student, Vered Zilberstein, pursuing an MSc in Computer Science at the Blavatnik School of Computer Science, has co-led a study that will help detect schizophrenia patients using artificial intelligence.
She and her research partners applied a machine learning algorithm that identified which study participants were afflicted by schizophrenia and which were not.
 "We used participant scores in a language experiment to train a machine learning classifier to differentiate between schizophrenia patients and a control group of the same sex and age. It managed to do it at an 81.5% accuracy rate," says Zilberstein, "This procedure is done through a sub-area called natural language processing."
Collaborating with Beer Yaacov Mental Health Center, Zilberstein set out to explore how AI and computing can assist in the world of mental health – specifically in dealing with schizophrenia.
The disorder is very tricky to diagnose and is characterized by abnormal behavior, speech impairments and a diminished ability to understand reality.
Examples of thought and language disorders characterizing people with schizophrenia include jumping between unrelated issues, called "derailment," while engaging in conversation. "Tangentiality" occurs when a sufferer replies to a question in an oblique and irrelevant manner. Grammatical mistakes and incoherent, illogical speech are also among the symptoms.
"However," says Zilberstein, "you need to be very skilled to succeed in identifying speech difficulties affecting schizophrenia sufferers as well as those affecting other groups, such as people on the autistic spectrum."
Zilberstein's study included two experiments which examined two types of thought disorders. One focused on derailment, which is dissociative weakness. "It means that one is jumping from one subject to another during a conversation," explains Zilberstein, "for example, someone can say: 'I've always liked geography. My last teacher in that subject was Prof. August A. He was a man with black eyes. I also like black eyes. There are blue and grey eyes and other sorts too…' and so on. You can clearly see that they jump very quickly between subjects and by the end of the sentence they have completely derailed from the initial topic, which was geography."
The other experiment focused on incoherence caused by peculiar vocabulary and incorrect grammar. It is hard to understand what is meant. For example: "Oh, it was superb, you know, the trains broke, and the pond fell in the front doorway."
Both experiments utilized interviews, questionnaires and photo descriptions. They involved 24 male patients affected by schizophrenia aged 30-40 and 27 mentally healthy males, serving as a control group.
The test results showed that, predictably, the control group tended to maintain focus on the conversation topics whereas the patients were more inclined to changing the subject. More important, it was the machine learning algorithm that could analyze and identify who was whom.
As a computer science master's student, who comes from the world of exact sciences, what draws you to the world of mental health?
"I wanted to be involved in a combination of disciplines, and not only computer science. I wanted to write a thesis based on real data."
How widespread, if at all, is the intertwining of artificial intelligence and mental health?
"While artificial intelligence gathers pace in the academic, industrial, educational and social media worlds, combining computer science and mental health is still very much in its infancy. However, artificial intelligence is inevitably going to affect almost all aspects of our lives.
"My study examined the way patients and healthy people talk but further studies may explore and compare between the way patients and healthy people write, for example on social media, which is what I intend on looking into in my research going forward."