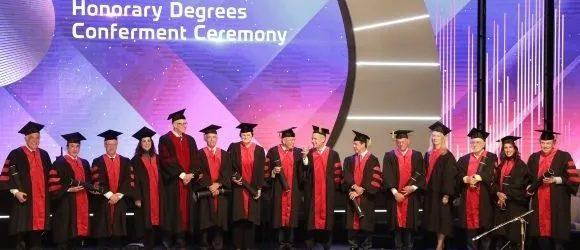 https://www.freunde-tau.org/wp-content/uploads/HonDcos-2022-580.jpg
11 distinguished individuals and one organization from diverse fields receive University's top honor.
In a festive ceremony held during the 2022 Board of Governors meeting, Tel Aviv University awarded honorary degrees to 11 individuals and an organization, all of whom have made exceptionally positive impact on the world.  
The recipients were: Jodi Kantor, New York Times investigative reporter and an award-winning author; Katalin Karikó, developer of the mRNA-based vaccine platform for COVID-19 and other diseases; Michael Victor Berry, theoretical physicist; Bernd Huber, academic leader and expert in public finance; Cornelia Bargmann, influential neurobiologist and geneticist; Eric J. Gertler, public service and business leader; James S. Gertler, philanthropist and business leader; Jehuda Reinharz, path-breaking scholar of Jewish history; Jurgen Renn, expert on evolution of knowledge; and Solomon Lew, industry leader and philanthropist.  
The Honorary Fellowship was awarded to the Iranian American Jewish Federation of New York and the George S. Wise medal awarded to Mark J. Carney, former Governor of the Banks of England and Canada.  
WATCH: A recap of some of the most memorable moments from the Honorary Degrees Ceremony 2022
Guests were treated to spirited performances by TAU music students and the world renown Shalva Band, whose members have disabilities, which left no one sitting still. 
"The honorees of this event are all driven by a deep social consciousness, whether in the areas of academia, business, civic service or philanthropy, and their contribution is boundless," said Dafna Meitar-Nechmad, Chairwoman of TAU's Board of Governors. 
The event highlighted one of the University's most important recent achievements: the Emergency Ukrainian Fellowship Fund, established in just a few days by TAU friends worldwide. The Fund enabled tens of Ukrainian scholars to continue their studies at TAU, after war erupted in their home country. 
One of those scholars, Maiia Levinson, spoke at the ceremony: "The scholarship I received has not only helped me to move to a safer country … but also made one of my biggest dreams come true—the opportunity to do research on cancer immunology.  
 "The knowledge and friendship I received here will be helpful for my country, when I come back home," she said. 
Speaking on behalf of all the honorees, Cornelia Bargmann thanked TAU and reflected on the role universities play in the modern world. Being part of a university "is a privilege, and with privilege comes responsibility: the duty to share [knowledge] with the world," she said. 
More than 300 guests, among them senior TAU officials, academics, Governors and friends, attended the ceremony and reception.