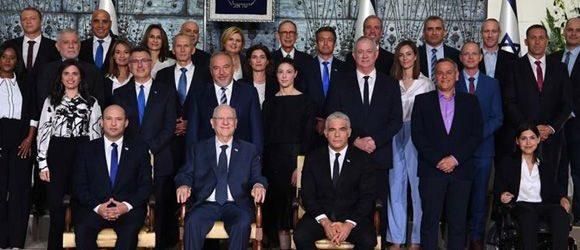 https://www.freunde-tau.org/wp-content/uploads/GPOAO-Rivlin-36thGovernment-580.jpg
Ten graduates among ministers in recently convened cabinet.
Upon the swearing in of Israel's new Unity Government, the country's 36th government, on Sunday night, Tel Aviv University would like to extend special congratulations to all the TAU alumni who are now serving as cabinet ministers. 
The Knesset (Israel's parliament) approved the new coalition government in the wake of four inconclusive elections over the past two years.
Most Diverse in Israeli History
The new government is noted as the most diverse in Israeli history as it comprises representation from across the political spectrum from left-wing, centrist and right-wing parties. For the first time in decades, the country's ruling faction includes an Arab party. It also has the highest representation of women cabinet ministers (9 out of 28) in Israeli history. Reflecting Israel's diverse societal makeup, the new government is comprised of lawmakers from a vast range of social, religious and ethnic backgrounds, including Jews (observant and secular, Ashkenazi and Mizrahi), Druze, Muslims, native Israelis along with immigrants from Russia, Ethiopia and more.
Tel Aviv University alumni assuming ministerial posts include:
Health Minister Nitzan Horowitz, alumnus of the Buchmann Faculty of Law
Internal Security Minister Col. Omer Barlev, alumnus of the School of Political Science, Government and International Affairs, Gordon Faculty of Social Sciences
Environmental Protection Minister Tamar Zandberg, alumna of the Buchmann Faculty of Law
Furthermore, TAU alumnus of the Buchmann Faculty of Law, Idan Roll, has filled the position of Deputy Foreign Minister.
In addition, due to the resignation as Knesset members of nine new ministers, six more TAU alumni have joined the Knesset, including two TAU professors – U.S.-born Prof. Alon Tal (chair of the Department of Public Policy) and Prof. Yossi Shain (School of Political Science). In total, 22 TAU alumni now serve as members in the current 24th Knesset.
featured image: Israel's 36th government