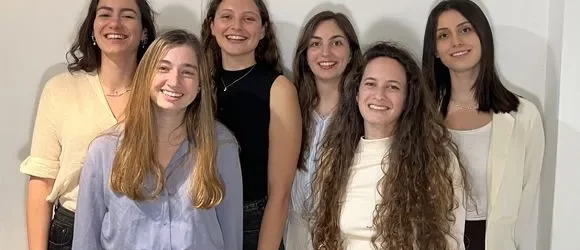 https://www.freunde-tau.org/wp-content/uploads/WIM_organizers_580.webp
New enrichment program created for and by Tel Aviv University's female medical students.
Women in Medicine (WIM) is a new program created for and by TAU's female medical students. The semester-long program kicks off on March 15 and aims to offer open dialogue and a community of female students from the Sackler Faculty of Medicine where they can receive advice, mentorship and support. 
The participants come from different study programs and years. Together, they will be listening to lectures by female faculty members (all successful women in medicine and most of them renowned doctors in various fields) who will share their own points of view on the unique challenges faced by women in the profession, accompanied by a wealth of knowledge acquired through their own personal experience. Outside experts will contribute as well, and topics to be covered include clinical research, entrepreneurship, and technology. The group will meet with a hospital director; attend a public speaking workshop where they will learn how to crush it in job interviews; participate in a LinkedIn workshop at LinkedIn's offices and much more. The in-person aspect of the meetings is key to create open dialogue and to facilitate meaningful connections between the women.
Orr Erlich, one of the co-founders of WIM, filled us in with more details. 
Orr, why do we need a separate program to promote women in medicine?
"The majority of TAU's medical students today are female. Sadly, this encouraging number is not reflected in women's reprensentation in many healthcare management positions in Israel. We want to set our female students up for success, and we will do so by organizing a full semester of bi-weekly meetings, whereby each meeting is divided into two parts: the first part will be instructive and go in-depth on issues that are important to our conduct as women in this very demanding profession, both on a personal and professional level. Established professionals will share from their knowledge and lessons learnt on topics like entrepreneurship; integration into research and academic advancement; management skills and teamwork; self-presentation; public speaking; resilience and dealing with difficult parts of the profession; cultivating negotiation skills; achieving a work-home balance and the importance of networking. The students will also be made aware of advantages they may have as women. The second part of the meetings will be practical workshops on the topics discussed earlier."
How did you select the participants for the pilot group?
"All the participants are female medical students from our University, and they come from a variety of programs (six-year and four-year, female medical students doing a PhD or MPH) and from all degree-stages. It is very important for us to maintain this diversity and to bring female students from different backgrounds, stages of life and interests (for example research or innovation) and with different strengths and abilities."
What will the participants take away from this program?
"WIM will enable each participant to seek out mentorship and share professional concerns and aspirations with likeminded women. We want the women to emerge from the program with raised self-esteem, with the understanding that they can realize their dreams and with the knowledge that they are in charge of their own medical careers."
Stay updated on application dates for new program cycles and events that will be open for the public and oganized throughout the year on Women in Medicine's social media channels (Instagram, Facebook, LinkedIn). 
Learn more about WIM
Would you like to get in touch with the organizers, or perhaps you'd be interesting in coming to speak to the group?
Send an email to: wim.telaviv@gmail.com