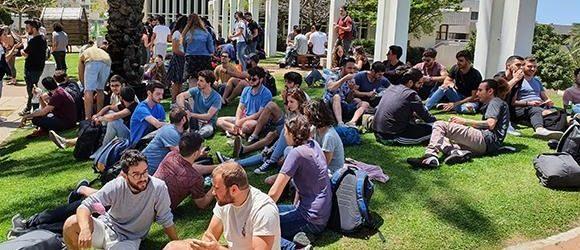 https://www.freunde-tau.org/wp-content/uploads/students-engineering580_2.jpg
Tel Aviv University has announced the formation of a new unit – the Equality and Diversity Commission – to be led by Prof. Neta Ziv from The Buchmann Faculty of Law. The new Commission, which will report directly to the University President, will deal with all aspects of equality and diversity on campus, including gender, Arabs, first-generation university students, people with disabilities, the LGBT community, members of the Ethiopian community, and the ultra-Orthodox. The Commission will act to promote equality and diversity in the faculty, the administration, and the student body. Prof. Ziv will start her new role in July 2021.
Striving for a Diverse & Equal Campus
Tel Aviv University has thus adopted in practice the recommendations of the Diversity Committee appointed by Prof. Ariel Porat, President of TAU, to examine the issue. The Committee, headed by Prof. Sigal Alon, recommended, inter alia, that the new unit outline a comprehensive university policy, set goals, and help senior TAU office holders promote equality and diversity in the areas under their responsibility.
The Committee report states: "To solve complex social problems, discover the next scientific breakthrough, and reach new heights of artistic expression, we must allow diverse ideas, approaches, perspectives, and experiences. Such diversity stimulates new research POVs, analytical methods, discoveries, and solutions." Similarly, campus diversity creates opportunities for interactions among students and faculty members coming from different backgrounds and expands tolerance towards a broad range of perspectives. A diverse campus is itself an edifying model as it prepares students for better citizenship and leadership in a democracy striving for an ideal society free of racism, fear of the other, and stereotyping. 
TAU President Prof. Ariel Porat: "To strive for equality and diversity on the campus is not only a social objective of the highest importance. A diverse academic faculty ensures a higher academic level for the university and its units; a diverse student body makes the experience of studying at the campus more meaningful; and a diverse administration provides the campus community with the sense that the university belongs to everyone regardless of gender, ethnicity, or nationality. I'm proud that Prof. Neta Ziv responded favorably to my request to assume the position of establishing the new Commission. Anyone who knows Neta knows that she is both a fully ethical individual and someone who gets things done, a rare combination of traits. For many years, she headed the Law Faculty's legal clinics and made them a source of pride for the Faculty and University as a whole, nationally and internationally."
Prof. Neta Ziv notes that the Commission she will lead will operate jointly with existing units to expand programs that have been implemented in recent years, particularly for first-generation university students and students with disabilities, the integration of Arabs and other groups in the administrative staff, and increasing the number of women and Arabs on the academic faculty at all levels. 
Prof. Ziv: "I'm greatly honored to have been asked to head the formation of the new unit and work on issues I have studied, taught, and been active in for more than thirty years. I believe that a diverse, equal campus is critical for achieving the academic excellence we strive for. But this is also an ethical matter. As a body that relies on public and community resources, the University is obligated to reflect the diversity of the Israeli public at large and become a sphere where every group enjoys a sense of belonging in an equal and respectful manner."