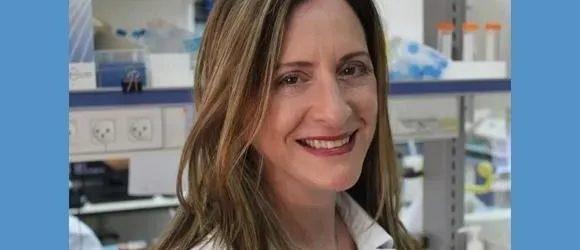 https://www.freunde-tau.org/wp-content/uploads/keren-avraham580_1.jpg
Israeli-American geneticist is the first woman appointed to the position.
Prof. Karen Avraham was selected as the next Dean of the Sackler Faculty of Medicine at Tel Aviv University. She is the first woman appointed to the position.
She will replace Prof. Ehud Grossman, and her tenure will begin on September 1. Prior to this appointment, Prof. Avraham served as Vice Dean for Pre-Clinical Affairs at the Faculty of Medicine.
"Medicine is undergoing a transformation, both in terms of research and education. We will continue to be at the forefront of medical research, and I am very much looking forward to leading our Faculty to new breakthroughs," she said.
Prof. Avraham is recognized as one of Israel's top scientists for her research that centers on disease genomics with an emphasis on hearing disorders. To that effect, her team explores the genes responsible for hereditary hearing loss and implements new gene therapies to reverse deafness. Recently, she has expanded her research to study rare genetic diseases, including developmental delay, epilepsy and breathing disorders in children. She is a member of the Department of Human Molecular Genetics & Biochemistry at the Faculty of Medicine and the Sagol School of Neuroscience.
For her scientific achievements, she has won numerous awards, including: the Sir Bernard Katz Prize from the Alexander von Humboldt Foundation in Germany, the Michael Bruno Memorial Prize from the Rothschild Foundation (Yad Hanadiv), the TEVA Prize for Groundbreaking Research in the Field of Rare Diseases, and the Teva Founders Prize on Breakthroughs. Prof. Avraham's work was also featured among the top pioneering Israeli discoveries and developments that affected the world, at a 2016 exhibit at Israel's Ben-Gurion Airport.
Prof. Avraham has advised 135 graduate, MD-PhD students and post-docs in her lab and recruited 65 junior faculty to the Faculty of Medicine at Tel Aviv University. She serves as director of The Healthy Longevity Research Center and is co-director of The Aufzien Family Center for the Prevention and Treatment of Parkinson's Disease and of the Taube-Koret Global Collaboration in Neurodegenerative Diseases. She founded and directs the Biomed@TAU Research Hubs, whose mission is to bring together scientists and foster collaboration from across Tel Aviv University and affiliated hospitals who share overlapping research interests.
Born in Canada, Prof. Avraham moved to the US at a young age before coming to Israel, where she earned her PhD from the Weizmann Institute of Science. She conducted post-doctoral training at the United States' National Cancer Institute in Maryl