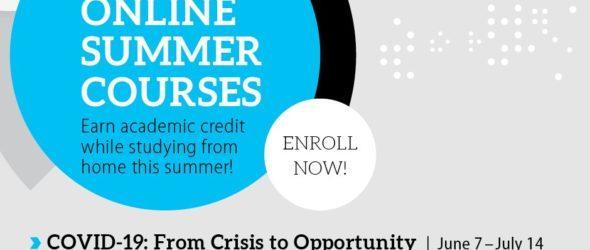 https://www.freunde-tau.org/wp-content/uploads/Facebook-General-version-1.jpg
Earn academic credit while studying from home with our new online courses for 2021.
Discounted tuition exclusively for TAU Alumni!
Following the success of last summer's online course "COVID-19: From Crisis to Opportunity", this course is returning for a further, deeper multidisciplinary look into the effects of the pandemic.  The program is led by Dr. Bruria Adini, head of the Department of Emergency Management and Disaster Medicine, who created the course in 2020.  We also have another new online course "Climate Change and the Middle East" led by Dan Rabinowitz, a cultural anthropologist known internationally for his work on culture, society and the environment in the Middle East, and author of The Power of Deserts: Climate Change, the Middle East and the Promise of a Post-Oil Era (Stanford University Press, 2020). 
 COVID-19: From Crisis to Opportunity
The pandemic is considered the worst global humanitarian crisis since World War II. It has changed the way people currently think about their personal and collective lives and their own and global future.
 Climate Change and The Middle East
What is in store for the Middle East and North Africa (MENA), already amongst the hottest, driest parts of the planet, as the Post-Normal Climate Condition sets in?