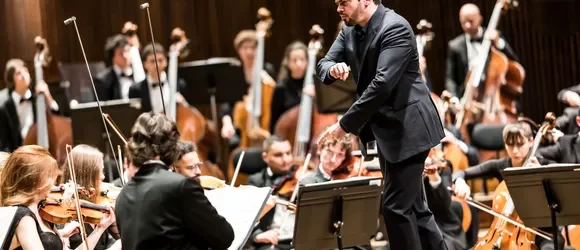 https://www.freunde-tau.org/wp-content/uploads/lahav_shani_580.webp
The 34-year-old Israeli musician and Tel Aviv University alumnus adds another top-notch orchestra to his portfolio.
Lahav Shani, Music Director with the Israel Philharmonic since 2020 and alumnus of Tel Aviv University's Buchmann-Mehta School of Music, will take over as chief conductor of the Munich Philharmonic, a leading German and international orchestra, starting September 2026.
The announcement was made last week by the mayor of Munich, Dieter Reiter, who underscored the freshness Shani would bring to the orchestra as one of the youngest chief conductors in the ensemble's history: "Lahav Shani is a perfect fit for the Munich Philharmonic. The city orchestra, with its tradition and renown, has been rejuvenated and is awakening a new excitement for classical music," Reiter said.
Shani's appointment was decided by the Munich City Council on the recommendation of the orchestra. He was present in the southern German city to sign the contract. "I met the orchestra just last year for the first time, and the relationship was immediately very strong, which is very promising (…) I'm looking forward to the coming years," he said in a video which was posted on his own Instagram account, as well as on the Munich Philharmonic's Twitter account following the signing.
Shani will continue his role at the Israel Philharmonic, and will be conducting both orchestras once he steps into his new role.