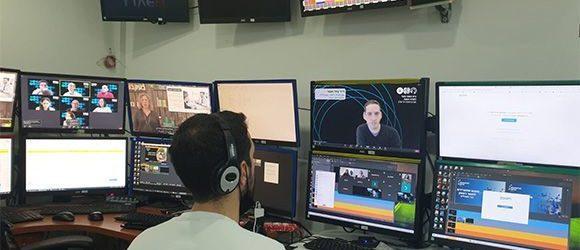 https://www.freunde-tau.org/wp-content/uploads/open-back580_3.jpg
Record high attendance despite event held online due to Corona.
This year, TAU wholeheartedly embraced the challenge of organizing its Open Day event online, resulting in a hugely successful event spanning over three days and comprising more than 200 Zoom meetings.
  "In the months preceding Tel Aviv University's Open Day, we produced an introductory video of the university campus, dozens of videos about the various fields of study as well as 50 pre-recorded lectures.", explains Alon Weinpress, Tel Aviv University's Marketing Director. "All this, we put together in order to helped those interested in studying here gain a clear understanding of the various study programs offered here at TAU, teach them about the admission options and also give them a feel of the campus – despite the online nature of the event. Our efforts proved themselves worthwhile and the end result was very satisfactory and with few glitches. The number of participants also turned out higher than expected!"
In the Zoom meetings, potential incoming students could learn about various study programs for B.A.s and more advanced degrees, and they could also choose to take advantage of personal counselling sessions, receiving tips on how to choose a suitable field of study for oneself and more.
  More than 20,000 potential future TAU students joined the online Zoom sessions where they met and interacted with the academic and administrative staff, current students and graduates of their field of interest.
  This year saw a particularly strong interest for the fields of psychology, management, biology, chemistry, medicine, the various engineering disciplines, computer science, neuroscience, sociology, law, political science and the health professions.
  Also tremendously popular were sessions offering tips for how to choose a field of study; alternative admission routes to the regular entrance exam and how one may improve one's chances of admission by taking online courses.
  The Open Day marked the opening of the registration season for the academic year 2021/22.