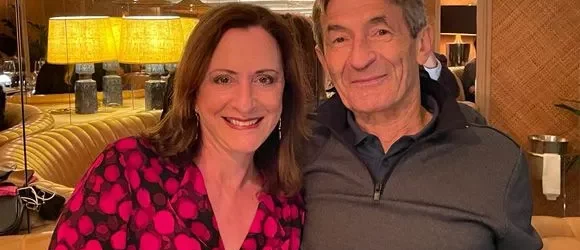 https://www.freunde-tau.org/wp-content/uploads/karenavrahamhusband_580_0.webp
Two TAU-made couples share their romantic stories.
Romance can be found on Tel Aviv University campus just as it can be found elsewhere in Tel Aviv, but "TAU couples" stand out from the crowd, with their shared love of science and passionate pursuit of the unknown! This Valentine's Day, we tracked down two of our academic couples and asked them a few questions:
Karen & Matti
Prof. Karen Avraham, Tel Aviv University's Dean of Medicine, is married to Prof. Matti Mintz, Emeritus at the School of Psychological Sciences at TAU's Faculty of Social Sciences:
How did you meet?
An MD [Doctor of Medicine] from the Faculty of Medicine saw a poster of mine at a Research Fair. He suggested Matti contact this "famous scientist" who has a model for balance and hearing. Matti arrived in my office about a month later, when I managed to find the time to meet him. He arrived with a motorcycle helmet under his arm and I thought to myself – I didn't know there were such cool professors at TAU!
What are the perks of being a "TAU couple"?
We have joint publications, joint supervision of graduate students, and can meet during the day for lunch (if I make time for lunch…). 
Funny situations arise as well when you're a TAU couple: One day a colleague from Medicine was in Matti's office. After an hour, he said to Matti – why do you have a photograph of Prof. Karen Avraham in your office? Needless to know, he didn't realize we were married.   
The most romantic spot on TAU campus?
The path from Medicine to Psychology […].  
Moran & Yoni
Dr. Moran Rubinstein from the Department of Human Molecular Genetics and Biochemistry is married to Dr. Yoni Haitin from the Physiology and Pharmacology Department, both at Tel Aviv University's Faculty of Medicine.
Yoni and Moran
How did you meet?
We met during our B.Sc studies at TAU  (The Multidisciplinary Program for Life Science and Medicine). Next, we started our M.Sc. studies together at The Department of Physiology and Pharmacology, The Faulty of Medicine, TAU, and proceeded together to the direct Ph.D. program.
What are the perks of being a "TAU couple"?
We have studied and worked together for a long time now. We performed numerous experiments jointly and still like to work together to this day.
The most romantic spot on TAU campus?
In the lab – we recently produced recombinant DNA together in Yoni's lab for a study performed in my lab. 
Happy Valentine's Day to you all, from Tel Aviv University Campus!